One of Courtney's main goals is to establish a team atmosphere of learning and growth to train and develop the Revenue Managers and Inventory Coordinators/Analysts as valuable talent for the future of JHM Hotels.

Courtney brings a wealth of knowledge and experience to this position and has years of experience with the hotels he has supported and where he has excelled.

Most recently Courtney was Regional and Major Market Revenue Manager for Intercontinental Hotel Group where he also served on the Revenue Management Advisory Board.

He spent 6 years with Remington Hotels as in a multi-hotel revenue management role and during his time with Starwood, Courtney was awarded Revenue Manager of the Year.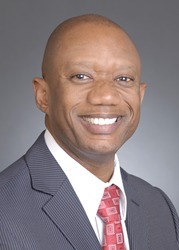 He is the former CEO of Synergy Revenue Management Company and was an Adjunct Lecturer for Florida Metropolitan University where he taught undergraduate courses in the areas of business, hospitality and personal career and development.
Courtney received his Bachelors' degree as well as his MBA from Nova Southeastern University. He is a native of Jamaica who enjoys painting and sketching artwork for family and friends.
In his free time Courtney likes to golf and has been a member of a bowling league. He is relocating from Miami to Greenville, SC.
JHM Hotels, a premier lodging company, based in Greenville SC, has developed, acquired, owned, and operated hotels throughout the United States for 40 years.
The company currently owns and operates over 40 hotels with 7000 guestrooms, located in the United States and India, operating under such well-known brands as Hyatt, Marriott, Hilton and Starwood.
Website :
www.jhmhotels.com.
.