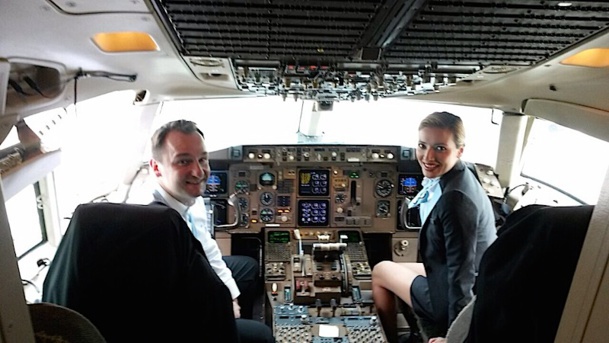 Frantz Yvelin, CEO of La Compagnie, is now tackling the market of London - New York. DR-Marion Lamure.
Frantz Yvelin is smiling.
After the launch of his 100% business flight between Paris and New York, the founder of the La Compagnie provides a positive assessment of his six first months of operation.
"Air France had guaranteed that we would never survive and yet, we're still here. Then again, they had said the same thing of easyJet,
' states the founder.
La Compagnie, the only 100% business operator between Paris and New York
has transported close to 10,000 passengers.
With a
mean price of €1,500
, it will require a fill up rate of 75% before being profitable. But Frantz Yvelin is confident and insures that it will
be in balance by the end of the year, as predicted.
London-New York, a market two times bigger than Paris
After Paris, he will tackle London-New York, a market of 4 million clients, versus 18 million on the French line.
Its first flights will leave on April 24th, 2015 from
the Luton airport
, where it won't have a competitor.
The 4th airport of the British capital is the first platform for business flights in England. Numerous
private jets
land every day on the tarmac and Frantz Yvelin would like to seduce the owners.
While he states not having received financial support, he confirms preferring Luton to Gatwick, where he had received slots.
"We would have been totally anonymous, stuck between two Emirates flights. Whereas Luton fought to have us come. It's a reasonably sized airport that completely fits our concept of the Boutique Airlines."
Located 45 km to the North-West of the English capital, Luton is a growing platform, that seduced
10.5 million passengers last year, an increase of 8.1%.
The airport expects to invest 100 million pounds (€134.8 M) to augment its capacity to 12 million to 18 million passengers by 2026. A new business lounge is also in the works.
Flights starting at €1,500 per person
To begin on the English ground, La Compagnie launched a call for bids at 1,007 pounds (1 500 euros) for two people.
More than half of the 500 projected tickets were sold in the day.
"Reservations in England are two to three times superior than those that we had in France during our beginnings. The clients are surely reassured by the success of our first months of operation,"
continues Frantz Yvelin.
Currently,
20% to 30% of the sales are made via the GDS
, after a slower start than anticipated. The CEO guarantees that travel agencies that sell his product
"have a certain type of recognition,"
without however providing details.
La Compagnie also signed corporate clients, especially operators of private jets. But various small and medium companies buy directly on the website.
Comforted by those results, Frantz Yvelin is already looking forward and could think about launching a third line, that would also cross the Atlantic.