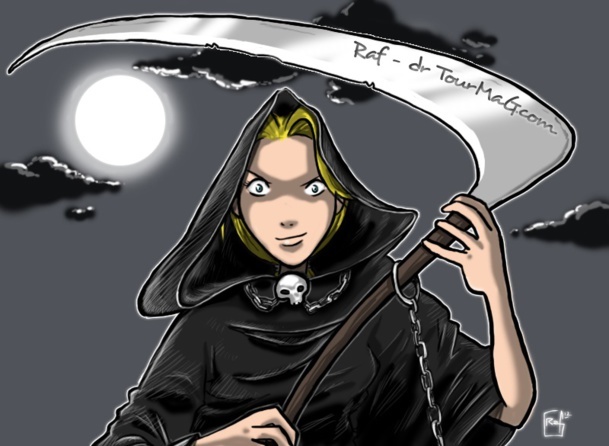 France is afraid, and the French are doing badly. So at Big-Boss Voyages and in 5000 other travel agencies in France, we have to do everything to inspire clients to travel…/DR Raph
France is afraid of everything.

France is scared of islamist fanatics who could strike French citizens anywhere especially since the country is "at war" against terrorism.

They could hit us in the 43 countries that are listed in "yellow" (a recently discovered color for the Ministry of Foreign Affairs) or anywhere else.

And why not in Paris?

Discretely, the RATP and department stores have reinforced their security measures.

On Sunday, I took a walk on the banks of the Seine and was surprised to see so many policemen wearing high security gear at the end of every bridge.

France is afraid of Ebola, understandably since a few European citizens have contracted the virus.

They were all contaminated in West Africa. When the cases were declared, the sick were repatriated, isolated, treated, and cured…

It should be a closed case by now.

It is dramatic for the populations of poor countries that have limited access to treatment facilities, but we have the chance of having the proper infrastructures to be treated.

France is afraid and the French are doing badly
France is afraid but it has mobilized.
France is afraid of deflation, France is afraid of the momentum of extremist parties, France is afraid of being unemployed, see its retirement compensation devalorized, of having to carry the weight of family allowance plans or other social services.
France is afraid and the French are doing badly. So at Big-Boss Voyages and in 5,000 other French travel agencies, professionals need to play all their cards to inspire people to travel.
No question of feeding this psychosis and to explain (even if it may happen) that a bomb is going to explode tomorrow at Gare de Lyon, in the tube, or the RER.
So…the other day, I couldn't keep it to myself, a couple of paranoiacs came to me, shaking in fear, to cancel their trip to Agadir
"because, you know, we wouldn't feel safe there."
It cost them
€658 in cancellation fees
and I couldn't help to tell them once they were leaving the agency:
"be careful when crossing the street, we never know…"
What can we do?
We can explain that there was one case of Ebola in Senegal and that it was treated.
And maybe remind people that the flu affects between 2 and 7 million people in France every Winter and that (according to the sources I found), 350 to 2,000 people die of the flu every year in our country.
In 2 weeks, I'm going to Turkey
So what should you do to make your clients want to come to our travel agencies and book a vacation?
1) Reassure:
explain, dissect, decode (explaining the texts…) the recommendations by the Ministry of Foreign Affairs:
Show that Morocco (apart from occidental Sahara) is green, and we'll playfully show that if Vietnam is in yellow, meaning "reinforced vigilance", that mostly means "report any unattended item and lookout for your wallet."
Translation: having common sense.
2) Communicate:
if Coralie is tan, it's because [she was]
"in Morocco last week",
if I ask clients to be quick it's because
"in two week I'm going to Turkey for a short week and I would like to finalize your reservations before my trip."
The clients might not say anything, but it makes them think a little. We're young, pretty, and cheerful: there's no reason we're going there to commit suicide.
3) Conspire a little:
when a client seems hesitant on the safety of a specific destination, we discretely alert our colleagues.
At that moment, there's always one of them that calls her own phone to act out a conversation (remember to speak loudly and clearly):
"Hello Miss Thingie, it's X from Big-Boss Voyages.
I managed to find decently priced flights to Marrakech but the two riads that you spotted are fully booked.
The paranoiacs want to cancel? Then they pay cancellation fees!
I'll send you an email with other offers, but we have to act quickly, can you call me back tonight or tomorrow?"
Other alternative:
"The waiting list for Paris/Dubaï has been confirmed so I issued the tickets and confirmed the option for the rooms like we agreed yesterday. I will charge your credit card and you'll stop by the agency tomorrow to get the paperwork?"
Like I said, we conspire a little, because honestly, we don't get many requests for Morocco or Dubaï these days…no need to deny that.
4) We pretend there's no problem:
keep sending newsletters on Morocco, decorate your windows with photos of Senegal… but we still promote, more or less discretely, destinations that are considered "risk-free" such at the Caribbean (our current best-seller.)
5) We let nothing fly:
the paranoiacs want to cancel? Then they pay cancellation fees.
People who tell us about the ongoing events, we ask naively
"what events?"
(of course they have nothing to respond…) and my favorite:
"you look worried, you need to go on vacation!"
Meanwhile, reservations towards Africa are at a standstill, our figures for September show a 20% drop and the agency is empty.
Since that's the case, I'm going on a little trip to Istanbul early November!
Because unlike the rest, I'm not afraid, and I would need many more reasons to be! (and it was cheap.)