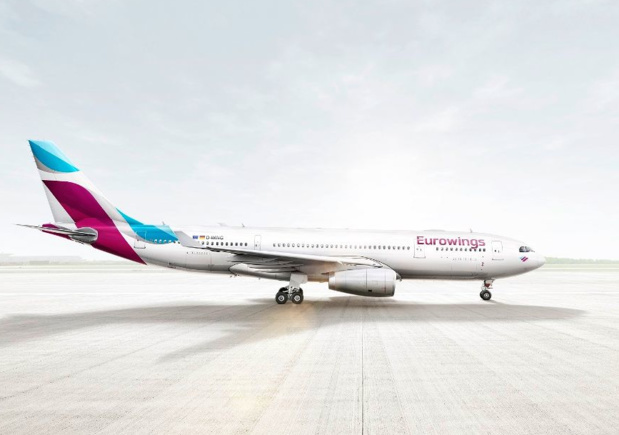 Eurowings, Lufthansa's new low-cost weapon - DR: Lufthansa
Lufthansa does not want to choose between low-cost and luxury.

To simultaneously fight against low-cost companies and its competitors from the Gulf countries, the German group is going to provide more freedom to its Eurowings branch and accelerate the quality upgrading of its brand Lufthansa.

Let's begin with Eurowings, that is progressively going to replace Germanwings, whose name is tainted by the dramatic accident that took place in March 2015.

Since it announced its hierarchical reorganization last September 16th, Eurowings is stepping up to become one whole entity, just like the group's other companies.

It will operate under an extremely simple point-to-point model on three leisure destinations: Dubai, Havana, and Bangkok from Cologne.

Since there are no direct flights to Cologne from Paris, its flights won't spark the interest of Parisians but it will of those living in Nice.
A long-haul pole under the Lufthansa brand
Lufthansa hopes that in the next 2 or 3 years Eurowings will become the
third leading low-cost company in Europe
thanks to costs 40% lower than those of the parent company. To have the means for this ambition, it should have a fleet of 100 planes.
The development of this low-cost pole goes hand in hand with a simultaneous
redeployment of the Lufthansa brand on the leisure long-haul market.
Thus,
six Airbus A340
will be operated on
six leisure destinations
(Maldives, Mauritius, Cancún, Panama, Tampa and Nairobi) in order to seduce a clientele keen to find flights with a high price-quality ratio.
Thanks to negotiations on the maintenance costs and employee salaries, these lines will be operated with costs
20% lower
than Lufthansa's other flights.
"It would be shame to deprive ourselves of the growth of the leisure market due to a lack of adequate tools,"
raises Steffen Weinstok, France's Director.
All of the flights will
depart from Frankfurt
, one of the group's two hubs. Something that will enable to offer a large network of connections and seduce tour-operators.
Better sell its additional options without going through GDS
As for the historic Lufthansa brand, the group is pursuing its quality upgrading and hopes to be awarded
a fifth Skytrax star.
Its new cabins are now available on all of its fleet.
New arrangements that clients are loving. In the past 12 months, the sales of
First cabins on the French market have increased by 20%.
Lufthansa is also multiplying new services, such as
wifi
, already available on long-haul flights, that will be distributed on all of its short and medium haul fleet by next summer 2016. Or the implementation of an
individual service in Business Class.
Services for which it hopes to better control its marketing by ensuring direct sales in order to multiply additional revenues.
"We create new products very regularly, but they will not be properly presented in the window,"
adds Steffen Weinstok, when referring to the GDS interface.
An opportunity to reaffirm that the group is not at war against agencies nor the GDS.
"The establishment of this tax stirred strong emotions. But we are only looking for a better way to sell all of our options in order to create added value,"
affirms Steffen Weinstok.
In fact, the company's sales
would be at an 8.5% increase in the first semester,
prior to the implementation of this infamous tax.
And since then, Steffen Weinstok asserts that the September activity is not declining…