Activities:
In terms of Spa, Le Mandarin stands out with a space of 900 m² located at the heart of the facility. Conceived on two levels, it has private suites and cabins for couples. An Asian atmosphere with traditional treatments and ritual Chinese bath paired with classic hammams. It is also possible to grab a bite with the bento boxes prepared by the restaurant's team.

Le Bristol (Spa Anne Sémonin) and Le Royal Monceau (Spa My Mend – Clarins) offer quality tailor-made treatments. The latter, all in white, has a "watsu" pool.

Le Plaza Athénée partnered with the Dior institute in 2008 to create its Spa (the hotel provides the option of in-room massages), while the Shangri-La relies on a Carita center.

The Spa of George 5 has an enchanting setting with a Versailles inspired pool as a backdrop.

Swimming pool, fitness and... cinema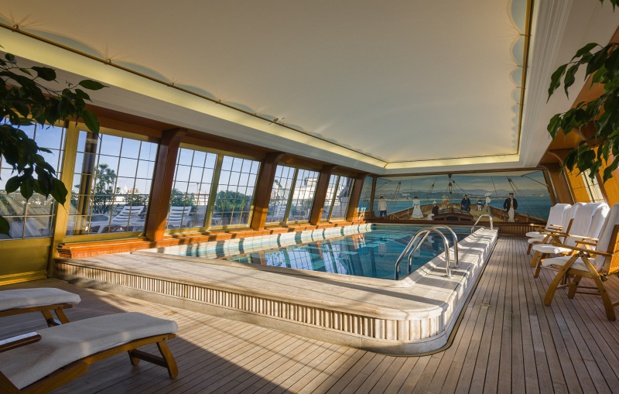 When it comes to swimming pools, our favorite is at Le Bristol with its "luxury yacht" ambiance and its opening on a solarium that provides a unique view onto the capital. - Photo Bristol
When it comes to swimming pools, our favorite is at Le Bristol with its "luxury yacht" ambiance and its opening on a solarium that provides a unique view onto the capital.

With its Versailles inspiration, the George 5's swimming pool is certainly the most original.

With its length of 28m the Royal Monceau pool (in the middle of the leisure-Spa of 1,500 m²) is the biggest of all Parisian Palaces.

All the facilities have a fitness space that is often only opened to hotel guests.

Le Shangri-La provides access to a tennis court.

The extra touch of Royal Monceau is its famous Cinéma des Lumières with a capacity of around one hundred seats (leather seats) and that has all of the modern outputs/inputs. A bookstore of contemporary art is located next to this private screening room.

Le Royal Monceau offers an art conciergerie, a unique concept that enables to rent out museums or purchase art work.
Restaurants:
While our study focuses solely on the hotel services, restaurants are an important criteria in the brand image of the facilities since they sometimes are the most highlighted element.
Restauration
Établissements
Nombre
Restaurants
Shangri-La
3 dont 2 étoilés
L'Abeille** : gastronomie française – P.Labbé Shang Palace* : cuisine cantonaise
La Bauhinia : brasserie franco-asiatique de luxe
Royal Monceau
3 dont 1 étoilé
Matsuhisa : gastronomie japonaise – N.Matsuhisa Il Carpaccio *: gastronomie italienne – R.Rispoli La Cuisine : petits-déjeuners et brunch
Plaza Athénée
5 dont 1 étoilé
Alain Ducasse*** : gastronomie française. Le Relais Plaza : Brasserie de luxe La Cour Jardin : restaurant saisonnier - La Terrasse Montaigne : restaurant saisonnier La Gallerie
George V
3 dont 1 étoilé
Le Cinq *** : française et nouvelle gastronomie – C.Le Squer Le George : gastronomie méditerranéenne. La Galerie
Meurice
2 dont 1 étoilé
Le Meurice**: cuisine gastronomique – J.Herland Le Dali : cuisine conceptuelle
Le Mandarin
2
Le Sur Mesure : gastronomique et innovant – T.Marx Camélia : cuisine moderne Cake Shop : pâtisserie
Le Bristol
2 dont 1 étoilé
Épicure ***: gastronomique – E.Frechon 114 Faubourg * : brasserie de luxe - Café Antonia et Le Jardin Français
Park Hyatt
3 dont 1 étoilé
Pur' * : gastronomie française – JF.Rouquette La Table du Chef : Les Orchidées : petits-déjeuners et brunch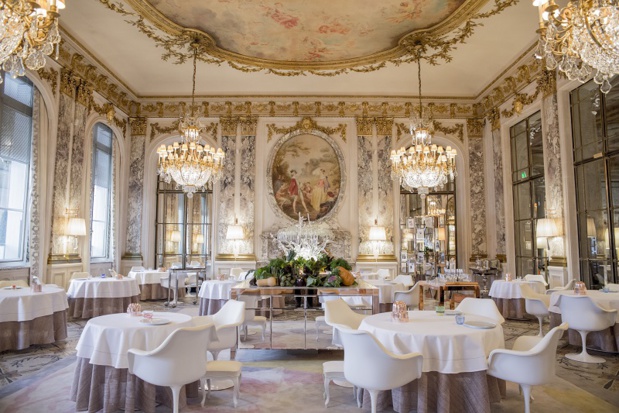 La plupart de ses établissements jouissent d'un cadre exceptionnel. Citons notamment Le Meurice, puisant son inspiration dans le Salon de la Paix du château de Versailles - Photo de P Monetta
Most of the facilities benefit from quite an exceptional setting. Such as Le Meurice that draws its inspiration from the Salon de la Paix of the Versailles Castle, the very luxurious decor of le Bristol or the skylight at La Bauhinia.

Le Camélia with enchant you with its setting, a perfect extension of the landscaped garden of Le Mandarin. While it has not yet received a star, Le Sur Mesure with its chef Thierry Marx strives to become a reference in the capital.

As for unique places, Il Capaccio is the only Italian restaurant to bare a Michelin Guide star. La Table du Chef offers a cuisine created before the clients' eyes.

While dining at a Michelin starred restaurant is an expensive pleasure, the palaces' bars are a more accessible first immersion into this alternate reality.

With its 1930s atmosphere, Le Bar Longe of the Royal Monceau and the "Empire" style of the Shangri-La bar, the remarkably sculpted counter of the Bar 8 of the Mandarin, the view onto the Winter's garden at the Bristol's bar, or the panoramic view of the Montaigne terrasse at the Plaza Athénée, each facility offers a unique setting and upscale service.

Do not hesitate to try different ones!
Methodology
In this study we will review the "official" Parisian palaces. Indeed, this label is very recent in France. The 5 star category dates from only 2009 in our country (a controlled category that must meet criteria pertaining to comfort, hygiene, services, accessibility, access to new technologies, and sustainable development.)

The "palace" distinction is granted by a jury based on very detailed requirements.

In this respect, 16 facilities in France have received this distinction, of which 8 are located in Paris. Our study is based on these Parisian hotels.