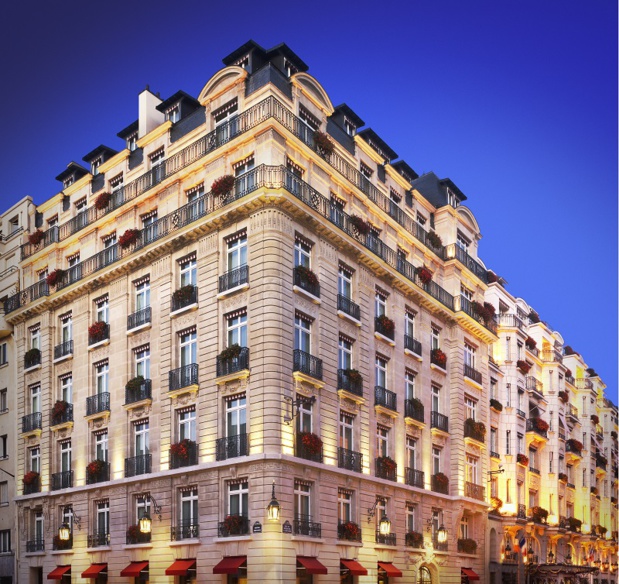 Bristol, the only remaining European Parisian Palace, is the facility that wins the most votes of the study done by Consultourisme - Photo Bristol
Admittedly, it is hard to offer negative criticism on these hotels since quality and luxury are everywhere, whether it's in the setting, comfort, or hospitality.

The differences in the grades are essentially in terms of the sensation whether in the room or the infrastructure in general.

According to our regular grading system, the sensations of our investigator and our panel of clients have enabled to conclude an average grade superior to 9 for each palace, a grade that remains exceptional in our traditional surveys.
| | |
| --- | --- |
| Notes Consultourisme | |
| Établissement | Note |
| Bristol | 9,66 |
| Royal Monceau | 9,55 |
| Mandarin Oriental | 9,51 |
| Plaza Athénée | 9,41 |
| Four Seasons – George V | 9,39 |
| Park Hyatt Vendome | 9,33 |
| Shangri-La | 9,23 |
| Meurice | 9,14 |
With its unique pool, location, and the originality of its rooms,
Le Bristol, the only European Parisian Palace, is the facility that wins the most votes. The conciergerie seemed to be the most efficient.
Following closely are two facilities that we can qualify as
"new palaces"
, for their more modern esthetic.
Le Royal Monceau
will amaze you with the omnipresence of art (sculptures, woodwork, bookstore…) in its space while
Le Mandarin
enchants with its unique atmosphere (don't miss out on the Spa) and innovative spirit.
Depending on what you're looking for,
distinguish palaces that highlight their classicism and splendor
(furniture, building, decoration): George V, Meurice, Plaza Athénée and Bristol, from newer,
resolutely modern palaces and that aim at innovation
: Royal Monceau, Park Hyatt, Shangri-La and Mandarin.
The
George V is a must for those who love glitzy luxury
. The
Park Hyatt Vendôme
is the most "affordable" alternative to meddle in the world of the planet's most beautiful hotels.
Generally, all of the 8 palaces will undoubtedly stun you, and if your budget enables it don't hesitate to try out the advantages of all of them, since each facility has its own personality and is on a constant quest for excellence.
Staying in a palace is surely costly… but maybe the price justifies such a dream experience?
While not yet having the Palace label, other major players must be taken into consideration for a stay or a "luxury" treat in the French Capital, such as the Ritz, Crillon, Fouquet's or Peninsula.
Methodology
In this study we will review the "official" Parisian palaces. Indeed, this label is very recent in France. The 5 star category dates from only 2009 in our country (a controlled category that must meet criteria pertaining to comfort, hygiene, services, accessibility, access to new technologies, and sustainable development.)

The "palace" distinction is granted by a jury based on very detailed requirements.

In this respect, 16 facilities in France have received this distinction, of which 8 are located in Paris. Our study is based on these Parisian hotels.