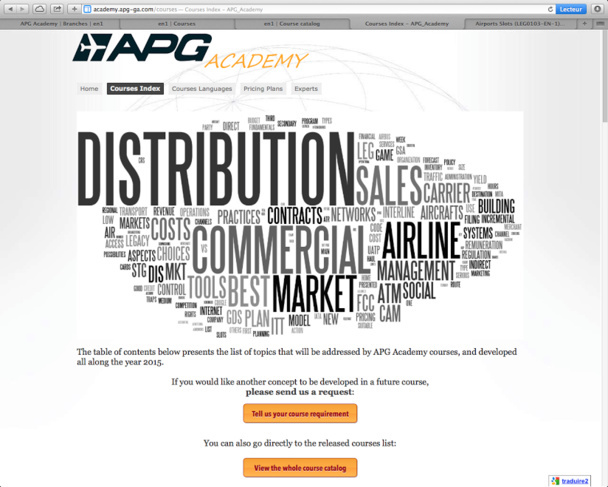 The new platform of courses from the network representing air traffic APG will explain the main issues in the sector. DR
You don't understand anything about how slots function in airports, you don't know why airline companies have code names and you're still wondering how they obtain trafic rights?
To shed light on these technical questions that are nevertheless essential in understanding how the air traffic world works,
the Air Promotion Group (APG) network recently launched a new platform of online courses: APG Academy.
The idea is to provide a toolbox giving a better understanding of the norms, regulations and more globally how this industry operates.
Just a thought for professionals in the sector
, it could attract a wide audience, from university students to any passionate individual.
However, the APG does not have the intention of competing with the IATA that already has a large training program.
"IATA produces in-depth notices, in the same manner as software manufacturers. We wish to create more practical courses, based on concrete experience"
explains Jean-Louis Baroux, the founder.
A platform that simplifies the main issues of the air traffic world
A desire for a beneficial simplification in a highly technical sector.
The courses were elaborated by fifteen professional experts and reread by educators.
Currently in English, they should be translated to French in the next two weeks, and soon in around forty languages.
"We will wait for the first feedbacks from our members in order to adjust the content and create new modules"
explains Philippe Bardon, Products Manager.
Currently,
4 courses are already available in English. They're on the topic of traffic rights, airport slots and Iata codes.
APG believes that they could interest 150,000 people in the world.
The networks plans
to invest between 500,000 and 1 million euros in this project
. The courses will cost between 40 and 150 dollars, depending on the subjects.
Because beyond the philanthropic aspect,
this platform is also an excellent way to promote APG's expertise
in the field of air service distribution.
The students could become, in the long run, clients looking for tips to then develop their own airline company.