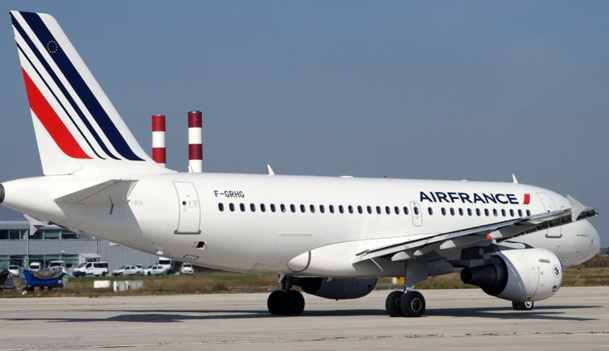 That's why In a still fragile economic environment, Air France capacity will increase by 1.2% this summer, driven by growth on the long haul sector. /dr
"The Group is undergoing a real commercial revolution
, said Alexandre de Juniac, Chairman and CEO of Air France-KLM.
This is reflected in our summer flight schedule by growth on long-haul routes and the rise of our strategic partnerships. In a difficult economic environment, we have worked hard to reduce costs and streamline our offer.

However, it is essential to continue our expansion on growth markets, which are the Group's future, "
That's why In a still fragile economic environment,
Air France capacity will increase by 1.2% this summer
, driven by growth on the long haul sector.
The summer season will see the gradual introduction of the new Air France cabins, illustrating the Company's move upmarket.
The first Boeing 777-200 equipped with the new seats in Business, Premium Economy and Economy will take off to New York-JFK in June.
The first Boeing 777-300 equipped with all the new cabins (including La Première) will follow in the autumn.
Long-haul: capacity up by 2.2%
The increase in capacity, driven by emerging countries, is particularly focused on
Latin America and Southeast Asia where the Company expects to launch two new routes : Brasilia (Brazil) and Jakarta (Indonesia).
North America: increase of 3.1%
Air France's capacity in North America is increasing thanks to the daily service to San Francisco by Airbus A380 and additional capacity by
introducing the Boeing 747 to Atlanta
during the entire summer season and Toronto for the peak summer period.
Services to Mexico are being enhanced with the addition of three weekly frequencies, giving a total of 10 frequencies operated by Air France.
- South and Central America: strong increase of 7%
Latin America is posting a strong increase in capacity, mainly targeted at Brazil, where Air France is launching three weekly flights to Brasilia as from 31 March 2014.
As from June 2014, there will be
four weekly flights to Lima (Peru) by Boeing 777-300
. Services to Montevideo (Uruguay) via Buenos Aires, launched last summer, will become daily and those to Panama City, successfully launched in winter 2013, will continue three times a week.
- Asia: capacity up by 2.6%
This summer, Air France is launching two daily flights to Tokyo-Haneda airport.
Close to the city centre and much appreciated by business travellers, Tokyo-Haneda makes connections easier to the Japanese domestic network of its partner Japan Airlines. To Tokyo-Narita, Air France is maintaining a daily flight providing easy connections to Nouméa.
In addition, Air France will continue to serve Shanghai by Airbus A380 and will also operate flights to Hong Kong by A380 from 27 May to 25 October 2014.
* Capacity measured in available seat-km compared to summer 2013
Strong development of partnerships
In Southeast Asia, Air France intends to launch a daily flight to Jakarta as a continuation of the service to Singapore, benefiting from the strong demand during the summer season by adding frequencies to Bangkok, Singapore and Kuala Lumpur.

In India, the offer remains stable.

- Caribbean and Indian Ocean: capacity remains stable (-0.6%)
In the Caribbean, capacity remains stable (-0.6%). There will be additional frequencies to Cayenne and the Dominican Republic during the peak summer period.

Punta Cana, usually served in summer as a continuation of the service to Santo Domingo, will be served by three weekly non-stop flights.

In the Indian Ocean, capacity will drop slightly (-1.1%).

- Africa: decrease of 1.3%
After the sharp increase in capacity in 2013, Air France capacity to Africa is slightly lower but still includes buoyant destinations in growth regions.

Since summer 2013, Libreville has been served daily and there have been ten weekly flights to Abidjan.

The complementarity of flight departure times to Abidjan, initiated in winter 2013, is maintained, with a night flight each way. In addition, the fourth frequency to Yaoundé (Cameroon) is maintained.

Air France is adding one frequency to Pointe Noire (Congo), bringing the number of flights to six weekly frequencies.

As of June 2014, the Company is also increasing capacity to Kinshasa and Brazzaville by using the Airbus A340 instead of the Airbus A330. In addition, servIng Egypt, Air France is maintaining services to Cairo by Airbus A330 and A340 and is suspending one weekly frequency.

Air France is also increasing the number of destinations offered to customers through the development of its code-share services, including Gol in Brazil, Delta in the U.S. and WestJet in Canada.

A total of 13 new destinations will be offered to Air France customers with partner airlines in North America, with 20 in South and Central America and 28 in Asia.

In the Middle East, capacity is being adjusted (-3%)
Medium-haul: further rationalization of capacity (-2.3%)
In France and in Europe, where the pace of growth remains weak, Air France is continuing to make adjustments to frequencies, both structural and seasonal, as well as the development of its hub at Paris-Charles de Gaulle where capacity is increasing by 1.6%.

On departure from Paris-Charles de Gaulle, Air France is launching two daily flights to the oil destination Stavanger in Norway.

To develop intra-European traffic at its hub at Paris-Charles de Gaulle, Air France has changed several flight schedules to create a connecting bank dedicated to medium-haul flights between 20:00 and 20:45, without impacting the success of connections with long-haul flights.

Services to London and Yerevan (Armenia) are being strengthened by new frequencies, while those to Casablanca, Istanbul and Rome are enhanced by the transfer of frequencies operated from Orly.

On departure from Orly, some frequencies on the Orly-Marseille and Orly-Nice shuttle service are being suspended, as are flights from Orly to Barcelona, while capacity to Biarritz, Toulon and Pau is strengthened by the addition of a daily frequency.

On departure from the regional bases, the seasonal flights introduced in summer 2013 will continue to operate with certain frequencies operating during peak periods only, such as Marseille-Beirut, Nice-Athens, Toulouse-Prague, Naples, Berlin and Malaga and other routes strengthened.

The Toulouse-Tunis and Toulouse-Istanbul routes are being suspended.