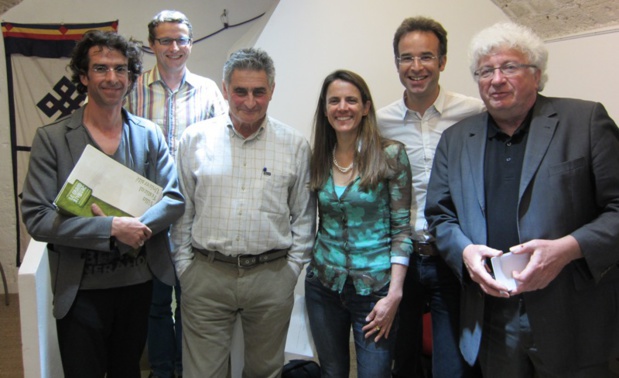 The Allibert Trekking team with the team of Grand Bivouac along with Jean-Christophe Victor. DR-LAC
Allibert Trekking is one of the oldest adventure tour-operator in France.
Founded 40 years ago by high mountain trekking guides in Grenoble, it has now internationalized and offers 1,300 trips in over one hundred destinations.
Number 2 of the adventure market in France, it joined the group Voyageurs du Monde two years ago.
Despite the disaffection of its Sahel destinations, it has still managed to maintain a
stable business turnover (43 million euros) and a steady number of travelers (27,000 clients.)
They have mostly redeployed to the Mediterranean zone, particularly to islands (Cap Verde, Canaries, Madeira) and to Greece and Italy.
Long-haul destinations are also on the rise despite the increased cost of the dollar.
"It is difficult to replace the Sahel with its stunning products, that are close-by and not too expensive. But we're trying to innovate,"
explains Frédéric Giroir the new Director and former Executive Director of Atalante.
In January, he replaced Gérard Guerrier, who was bluntly dismissed at the end of last year even though he had contributed to getting the TO back on track.
Internationalize to find new sources of growth
Today, Frédéric Giroir believes that adventure tourism still has great potential since it accounts for only 2% of the global touristic market.
"These types of trips are gaining in popularity and attract new clients every year. Our products correspond perfectly to the growing tendency of travelers looking for a deeper connection with nature, especially since the world population is becoming more urban."
While it already benefits
from a core of loyal clients
(around half) who recommend it by word of mouth, the TO doesn't only depend on French citizens and close-by Francophones to expand.
Today, it hopes to seduce foreign markets through the five incoming agencies it owns, in Morocco, Costa Rica, Uzbekistan, Peru, and France.
It is also diversifying its selection by offering trips in kayak or bicycle, while elaborating independent trips which are less costly to clients.
Finally, in the event of its 40th anniversary, the company launched a mystery trip that was booked to capacity in less than two days along with private sales on some products.
The team will also participate in the 14th edition of the Grand Bivouac Festival that will take place in Albertville next October.
An event during which the Buddhist Matthieu Ricard and academic Jean-Christophe Victor, host of the show Le Dessous des Cartes, will share their reflexions on the state of the world and attempt to fight against the prevailing gloomy geopolitical atmosphere.