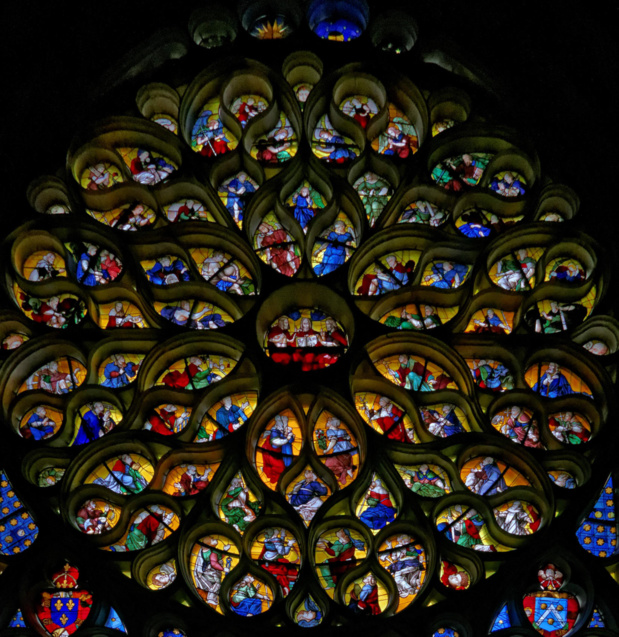 The occidental rose of the Troyes Cathedral (photo: Denis Krieger)
La Cité du Vitrail in Troyes: a new permanent exhibit
The permanent exhibit of la Cité du Vitrail was entirely renewed in late January 2016. Nearly thirty panels of stained-glass windows from the
12th to 21st century
were set up in the barn of the Hôtel-Dieu-le-Comte in Troyes.
Through this, the public can admire Cistercian pieces but also these stained-glass windows that were already exhibited in 2013 but that, here, are presented in a more airy setting. Eight unprecedented windows were added to this beautiful collection.
La Maison du vitrail d'Armance in Evry le Chatel: a new place devoted to stained-glass windows.
La Maison du Vitrail d'Armance
"from shadow to light"
that opened in the summer 2015, was set up in the former prison (1833) of Evry le Chatel.
The building was entirely renovated for this occasion and is located in la Place du Marché.
"It was symbolic to transform this former prison, that was composed of twenty vaulted cells, into a House of Stained-glass Windows, making the edifice go from the shadow to step into the light.
Visitors are encouraged to discover the work of stained-glass, from the donor to the installation onto the site, to help understand the fabrication process in a fun way.

In this respect, the technicality, tools, and know-how used on the churches of the Pays d'Armance and Ervy-le-Châtel can be explored »
explains the managers of la Maison du vitrail.
Practical Information
La Cité du Vitrail
1 rue Roger Salengro (angle du Quai des Comtes de Champagne)
10000 TROYES
Phone: +33 (0) 3 25 42 52 87
cite.vitrail@aube.fr
http://www.cite-vitrail.fr
Maison du Vitrail d'Armance "de l'ombre à la lumière"
place du Marché - 10130 Ervy-le-Châtel
Phone: +33 (0)3 25 41 47 60
Getting to Aube in Champagne ?
Road
150 km from Paris (Highway A5), 120 km from Reims, 320 km from Lille, 330 km Lyon, 400 km from Bruxelles. Highway junction A5 / A 26, at the crossroad of major European axes: London/Milan, Rotterdam/Barcelona, Paris/Eastern Europe.
Train
One SNCF line Paris-Mulhouse (90 minutes from Paris by train)
www.voyages-sncf.com
Airplane
A business airport in Troyes-Barberey
www.troyes.aeroport.fr