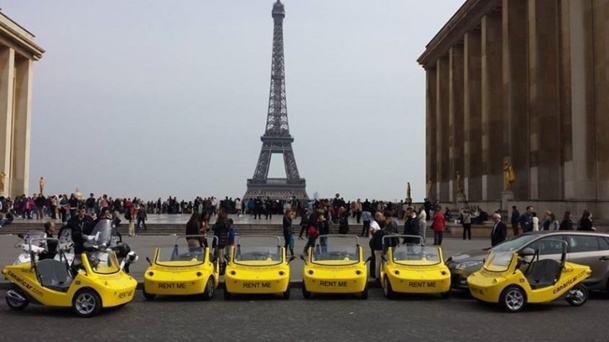 CanariCar, a new way of visiting Paris - DR
The CanariCar appeared in the streets of Paris last March.

The company that offers this service is specialized in short time car rental of 2-seated and talking convertibles (group reservations possible).

Its goal is to give a tour of the capital to foreign tourists and/or provincials, in a fun and original way.

Only adorned on three wheels, it cannot go beyond exceed 50km/h and has only two seats.

The CanariCar has an onboard touch screen computer and GPS. The traveler is guided meter by meter on the historic sites of Paris.

Adapted visits
The audio-guided navigation can tell users an episode of history, a fact of architecture or the customs of an area.

The users therefore cannot miss the important monuments of the city.

The company offers five different formulas, including a special for lovers or another to discover the hallmarks of Paris.

The rental rate varies with time. One hour costs 35 euros.

A "Free Flight" Formula allows to rent for a duration determined in advance by the travelers and the company.

The checking out of the vehicles is done at the top of the Champs Elysees (Avenue Foch).

VIP service is available. It offers the delivery and removal of the CanariCar at your doorstep.

Who's turn is it?