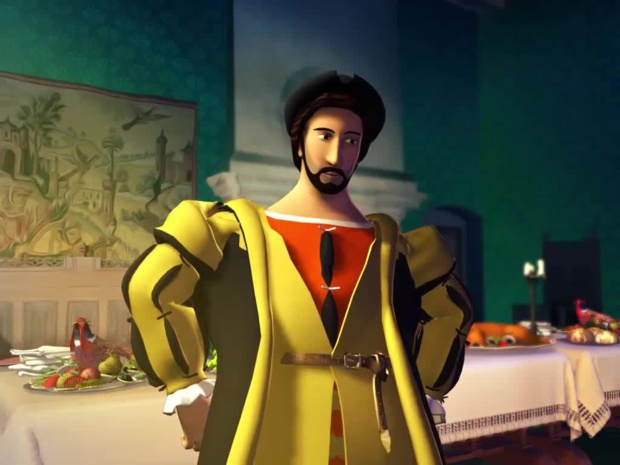 "Au service du Roy" the interactive route of the Castle
Amboise, 1518… After returning victorious from Italy, François I still had to fight for power: crime, seduction, diplomacy, and conspirations could still ruin his dream of glory and Empire. Through this interactive route «Au service du Roy», visitors will fight, avoid traps, and solve the plots of the Court through cartoon reproductions and games requiring skill, rapidity, and thinking.

"This innovative project is a novelty in Val de Loire. It feeds on the recent experience of virtual restitution and investigation games but it offers a complete scenario-based path inspired by real events.

This is a true immersion in the past enriched with factual historical information" explains Marc Metay, Manager of the château royal d'Amboise project.

The route was created by the company 100 millions de pixels with the technical means of Motion Capture.

The Castle and its interior designs of 1518 were integrally reconstituted, enabling the players to experience total immersion, at the heart of a scenario-based adventure, enhanced with characters played by actors whose voices were recorded in the Tonwelt studios in Berlin with postproduction managed by the company Comédiart.
Practical Information
Château d'Amboise
Phone: +33(0)2 47 57 00 98
37400 Amboises
www.chateau-amboise.com
The Castle is opened every day of the year except for December 25 and January 1st.
Adult: €11.20, Student €9.70, Child (7-18 tears) €7.50, free for children under 7 years.
Audioguides: Adult +€4, Student +€4, Child +€3
Online Tickets: http://
www.chateau-amboise.getaticket.com/Information.aspx
Getting to Château royal d'Amboise?
Driving
-Highway A10, exit. Amboise,15 km from the D31 followed by the N152.
-Highway A28, interchange Tours sud toward the A85
-Highway A85, exit Bléré Amboise Chenonceau, toward Amboise through D31 .
In T.G.V
-TGV Train Station (Tours-Saint-Pierre-des-Corps) is 20 km from the Castle or SNCF line until the Amboise train station. To know more, visit:
www.voyages-sncf.com
By Airplane
-Tours-Val de Loire International Airport. www.tours.aeroport.fr
Daily flights London Stansted-Tours. Weekly flights Figari (Corse) - Tours
By Helicopter
Private Helicopter airport in the Castle's park