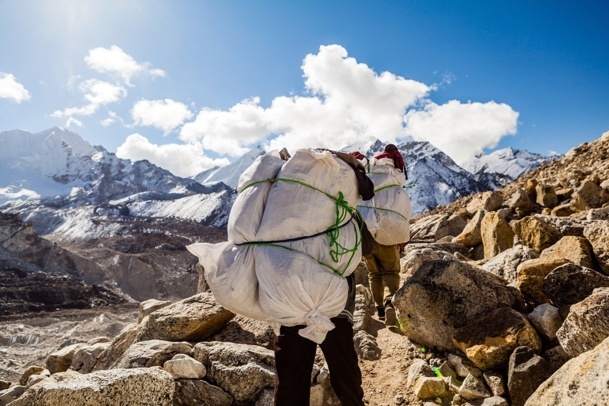 After an avalanche that killed 13 of their colleagues, the Nepalese mountain guides are on strike at least until the end of May - DR: © blas - Fotolia.com
They made the announcement on Tuesday, April 22, 2014: Following the avalanche that caused the deaths of at
least 13 of their colleagues on Friday, April 18, 2014, Nepalese High Mountain guides are going on strike.
Contrary to what was announced in the press, they are not putting an end to their season.
Lionel Habasque, CEO of
Terres d'Aventure
, which leads expeditions to several peaks of over 8,000 meters, said:
"They are the 32 Nepalese mountain guides who are on strike, including 21 of Sherpa ethnicity.
They stopped work in solidarity with the Sherpa porters. They also announced that they will strike at least until the end of May, but not for the whole season."

This accident led them to leave the Everest base camp. Leading all climbs to the highest peak in the world that were scheduled until end in May 2014 to be canceled.
A decision that does not concern the Tibetan side of Everest. "
To my knowledge, climbs continue in Tibet,"
said Bernard Muller, a Himalayan guide and expeditions organizer, who founded
Stage Expédition
.
This agency offers Everest ascents, but only on the Tibetan side of the mountain. A choice made
"among others, for security reasons,"
says Bernard Muller, who has climbed six peaks over 8,000 meters, including the Mount Everest in 2001.
"I'm not saying it is a total aberration to climb up by Nepal, but it is more dangerous, he says. However, this type of avalanche is quite exceptional. As they often are in the mountains. I think the outcome of the accident could have been much worse."
A vicious circle
The announcement of climb cancellations necessarily caused the disappointment of many Western travelers who had programmed an ascent. Some French climbers are concerned as well.
We went around hiking specialists on the French market, and did not notice any customers affected by this. At Terres d'Aventure, no expedition is planned in the short term, there is only one departure confirmed for October.
At Huwans and Allibert Trekking, there no customers either.
Moreover,
Allibert never organizes climbs of more than 8,000 meters.
A choice made for
"ethical and responsibility"
reasons, as we have been told.
Very few people are able to climb the Everest autonomously. Those who do so usually need the help of dozens of sherpas porters.
These porters are always looking for more customers to make a living and thus put themselves in danger by climbing with people who are not experienced enough. It is this vicious circle that has, in part, led to last week's fatal incident.
The Nepalese sherpas asked their government to pay
7,200 euros to the families of the killed and injured colleagues who can no longer work.
They had set an ultimatum on Monday, April 21, 2014 for a response from the authorities.
"I understand the position of sherpas and anger toward the Nepalese government that gains a lot of money with climbs,
explains Bernard Muller.
I have lots of admiration for them. They are now able to fully take care of their customers and communicate with them. I encourage them to take charge of their destiny but I do not think they are making the best decision.
I fear that their attitude will be severely detrimental to Nepalese Tourism."
An act of God or contract modification?
An extremely important economic sector for this poor country.
These climb abandonment could heavily affect this sectors if scheduled trips are canceled.
It is rumored that the Nepalese government
could reimburse the Western climbers whose trips were canceled.
But for now, no such decision has been officially announced.
For French travel agencies who have clients on site or on scheduled departures,
"it is more the case of the modification of the essential elements of the contract than a pure act of God"
analyses Ms. Emmanuelle Llop, lawyer at the Paris Bar, specialized in Tourism (Equinoxe Avocats).
According to her, the "excursions" part of the trip is not external to the contract, nor to the agency that organizes it. "
It is even possible to consider this event as not insurmountable, as one could imagine replacing the Sherpa guides by other high mountain guides,"
adds Ms. Llop.
Under the
Article L211-13 of the Tourism Code,
agencies must inform their clients between termination at no extra-charge or contract adaptation.
"If it is out of the scale of cancellations fees, the best advice is still to cancel altogether,"
said the lawyer.
Agencies that already have travelers onsite, must apply
the article L211-15
. It concerns travel changes after departure.
The text provides replacement benefits at the expense of the agency unless it is legitimately impossible.
"Which seems to be the case,"
says Mr. Llop.
In any case, if the client believes to be taken advantage of, he may file damages claim.
"But I doubt it
, says Emmanuelle Llop.
Especially if the travel agency does everything in its power to alleviate the consequences of this dramatic event."