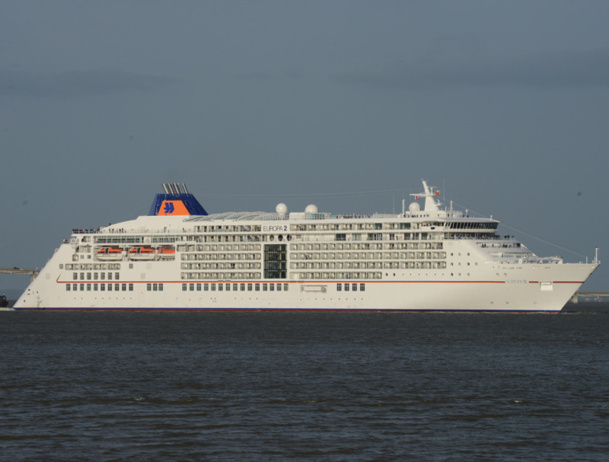 Europa 2 is the last vessel delivered by STX and was awarded the most luxurious ship of 2013 by the Berlitz guide.- DR
TourMaG.com - What is your vision for the cruise industry?

Xavier Leclercq: "The evolution of the cruise market leaves room for two major product categories.

The first is the massive ships market that has significantly increased in size.

Previously, there was a particular width constraint that was due to the passage of the Panama Canal. Ships coined as "Panamax" were those that were equipped with the maximum dimensions to cross the canal.

Now we are in a generation of ships post-panamax. The capacity in the number of cabins has greatly increased. We now have ships of 2,500 cabins versus 1,000 previously.

Larger ships reach 228,000 barrels.

The second niche that exists on the market is much smaller. It is that of luxury cruises with much smaller vessels, that reach around 50 000 barrels.

They go to privileged areas in the Amazon, the Arctic, or Antarctic."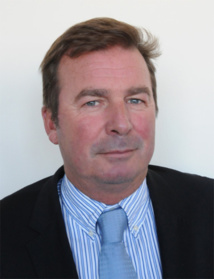 Xavier Leclercq, Technical Director of STX France - DR
TourMaG.com - Concerning liners, could the concept of the floating island ever be conceivable?

X.L. "The floating island project is an utopian dream, but very large vessels are approaching this concept. These are ships that I call "destination ships."

Passengers come on board for the activities: surfing, climbing wall, basketball court, zip lining... boats have become amusement parks.

And as a bonus, they move, which is not really the case of the artificial island."

TourMaG.com - In your opinion what is the future of these "destination ships"?

X.L. "The offer is on the rise in amazing ways, for economic reasons, even if the investing costs are important at the first to the owner, the "Value for money" relationship is excellent.

Moreover, there is no equivalent in terms of tourism product. On a cruise ship, passengers find the offer of a holiday resort, while moving to several countries and cities."

TourMaG.com - What may limit the development of these ships?
X.L.
"The only limitation to the development of these vessels is not technical, but in terms of harbors.
The infrastructures must evolve if the industry wants to go even further. Embarking and disembarking 5,000 passengers in a half-day does not happen easily."
TourMaG.com - What are the challenges of the cruise industry?
X.L.
"The two major challenges facing the sector are improving the environmental impact of ships, and the safety of passengers.
Owners are not philanthropists, and fuel remains the biggest item of expenditure.
On the sister ship Allure of the Seas of the RCCL company that will emerge from our sites, we were able to reduce fuel consumption by 30%.
Vessels do not emit much, but in the future, the goal is that they reach an ability to emit nothing, because of the treatment of emissions and waste.
Advanced technologies already allow us to limit emissions of sulfur dioxide, CO2, and nitrogen.
Very strong technical developments occurred on the scrubbing of gas fumes.
As for safety, it is the architecture of ships that was changed to meet the safety requirements.
All necessary maritime safety systems are redundant. For example, two energy compartments are necessary, the same goes for propulsion."
TourMaG.com - Fuel is the largest expenditure item for ship owners, are you working on cruise ship projects that use other means of propulsion? I am thinking of sailing, but also why not, nuclear, and of course liquefied natural gas (LNG), since you have just signed a contract with Brittany Ferries for the construction of a gas ferry.
X.L.
"We are working on these issues. We considered the track of nuclear power, but there are important safety problems.
The sailing propulsion is also under consideration, but on vessels of more reasonable size that are suitable for exploration.
Club Med and Star Clippers ships already use sailing during their navigation. This is not a new concept.
It is certain that we can be more modern and efficient.
An alternative fuel is the LNG.
One of the problems is the lack of gas pumps at harbors. For vessels that always do the same route from point A to point B, it is quite easy to convince a gas company to relocate in these harbors.
This is necessarily more complicated in the cruise industry."
TourMaG.com - There is also an effort to make more efficient the use of materials. A lighter vessel will consume less...
X.L.
"Indeed, we are in the same pattern as for airplanes. Reducing the weight of ships and studying the best shape is essential.
With similar resistance, we use different types of steel, and composite materials, but quickly we are confronted with issues related to fire regulation.
This is certainly a major research project."
TourMaG.com - And what about the technology and digitalizing onboard…
X.L. "For the last 10 years digital service offers have increased considerably: air conditioning, digital notices to inform passengers, VOD, but also permanent geo-localization of passengers.
Just a few years ago it was impossible to call with a mobile phone. Digital technology has also led to large changes in terms of offers, I'm referring to LED and entertainment offered on board, but also safety.
A vessel of 7,500 passengers can, in theory, be controlled by a single person. Automation has allowed that. Everything is controlled and measured continuously."
TourMaG.com - Where do you see the cruise industry in 20 years?
X.L. "The range of services and leisure activities on large ships will be even more advanced, with low fuel consumption and zero carbon footprint.
Exploration ships will go further by visiting unique places and leaving the scene intact from any environmental damage.
There is also an emerging market in Asia. Consumer habits are totally different than those of American and European passengers.
Asian customers are more passionate of games than tanning for instance, and the supply of dining and drinking options will not be the same. Products will be different..."
See also:
I. The future's cruises: what concepts and what products for what customer base?