In June 2014, Fa Zhong Zhi Jia, France's DMC of Maison de la Chine, organized an "auto-tour" for Chinese officials in France and Switzerland - DR: Maison de la Chine
TourMaG.com - How is the DMC activity launched by Maison de la Chine in 2013 doing today?

Patricia Tartour: "The activity truly started in May-June 2014, after more than a year of preparation.

We had to recruit the right teams - 5 employees focused on Paris and 2 in Pekin - and we needed to improve web referencing, given that the majority of our clients contact us through our website.

In China, Google doesn't exist, the Chinese have their own web browsers and social networks.

It can take a long time to show up on Baidu and our presence during our first year was pretty insignificant.

Things started looking up during the month of May 2014 with requests coming in everyday.

In the end, the launch was rather quick for the Chinese market but setting everything up was more challenging. In fact, Maison de la Chine is the only French agency with a business license in China.

The fact that we've been working in the country for over 15 years has given us credibility amongst the authorities.

We're maintaining our momentum by translating our website into English, which should be up and running by the 1st trimester of 2015, and will enable us to reach a new clientele."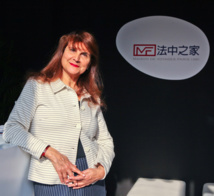 Patricia Tartour, founder and CEO of Maison de la Chine - DR
TourMaG.com - In the last six months, what types of requests have your received or dealt with from Chinese travelers?

Patricia Tartour: "We only create a customized offer meaning absolutely no mass-market, because many Chinese DMCs have already been established in this field for over ten years in Paris.

We made the choice of focusing on luxury products, for a clientele spread out 50/50 between group and individual requests.

It's worth noting that only 5% of the Chinese who travel abroad come to France, but the country remains very attractive for this particular clientele that hopes to discover the French way of life, its wine or the romantic aspect of this destination.

We host corporate groups or institutions, like groups of friends, families, or young couples.

Most of the time, we're asked to organize an extension towards another European country, such as Switzerland or Italy, but it remains limited. Our clients don't ask for a tour of Europe in 4 days.

We also noticed a growing curiosity from the Chinese who would like to invest in France. We received, for instance, requests to visit airports.

This enables us to stand out from the competition. We'd rather present a unique offer to our clients by showing them Arcachn, Ile de Ré, the Christmas markets in the East or Lyon's Fêtes de Lumières for example.

We also provide information on themed-based package ideas, that are combinable and adaptable. But we also handle specific requests like sharing a Christmas dinner with a French family."
TourMaG.com - Do Chinese travelers have very specific tastes? Should professionals adapt their offers accordingly?

Patricia Tartour: "Our clients look for authenticity. But there are always criteria to respect if we want to satisfy our customers.

In terms of meals for examples. The hotels we work with have integrated the fact that the Chinese don't eat sweet food for breakfast.

They offer more frequently instant noodle soups, or add tea kettles in the rooms. Along with slippers.

We work frequently with the Mandarin, Shangri-La and Peninsula hotels in Paris.

All of our staffs speak Chinese and 80% of our clients are accompanied by Chinese guides during transfers, visits, and shopping, which is a very important activity for them.

Some of our clients even come with their own guide to have an interpreter there at all times.

We've been handling great cases and we we're getting positive feedback.

In 2013, 1.3 million visas were delivered. In 2014, this number should increase by 50%, between 1.8 and 2 million, according to the consulate and Atout France."
Reception of an art expert delegation
Here's an example of one of the actions organized by Fa Zhong Zhi Jia (Maison France Voyage).
The DMC will organize, early December 2014, the tour of the China Guardian Auctions, the oldest Chinese auction house. A 10 day trip that will tour throughout France looking for Chinese artworks.
"This tour will consist of workshops organized in France enabling to better valorize the Chinese masterpieces that have been spread out throughout Europe over centuries,"
states Maison de la Chine in a press release.