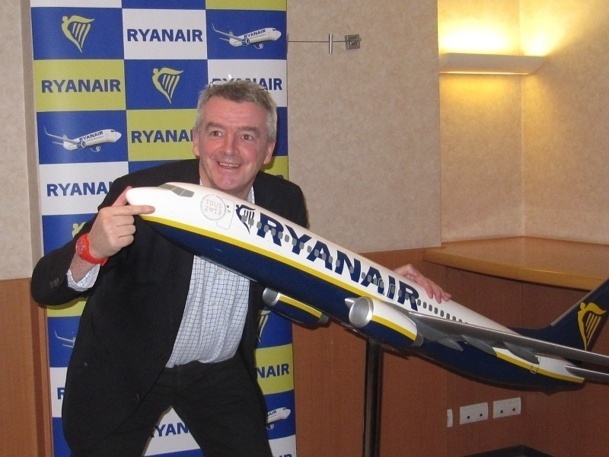 Michael O'Leary now wants to seduce business men. DR
Ryanair is veering away yet again from its ultra low-cost image.
The Irish company revealed on Wednesday August 27th a new price offer to attract business travelers.
Called
"Ryanair Business Plus"
, it introduces flexibility in flight changes, offers 20kg of checked luggage, a fast track at security checkpoints in eight airports (Dublin, London, Stansted, Liverpool, Manchester, Charleroi, Milan Bergame, East Midlands, Barcelona El Part.)
Priority boarding along with premium seats selection are also included.
This new service constitutes an additional step in its strategy to change, which has been activated for a few months already.
The Irish company is walking on the territory of its rival, Easyjet.
At the end of 2013, the company had set up in three main airports: Rome Fiumicino, Brussels-Zaventem and Barcelona El Prat, quite far away from its usual and familiar secondary platforms.

Passengers can also choose their seat, bring a second carry-on luggage at no extra charge, surf on a brand new website and receive a boarding pass on their mobile phone.

And another alteration to the original model, is its agreement with the GDS Travelport, through which travel agencies can find offers and prices. A nice revenge for the distribution, as we had explained last January.

All these new changes take the company away from its signature ultra low-cost model.

A necessary evolution to straighten out its net profits, at an 8% deficit since the last term.

Bad results that the CEO, Michael O'Leary, associated to the weakness of the Sterling Pound along with the 9% decrease in the average price of tickets.

But thanks to this new "Business Plus" with a starting price of €69,99, Ryanair hopes to improve the average price of tickets which would in turn increase profits. According to its press release, the company already carries 25% of business travelers.

A number that is still lower than its main rival, EasyJet, that accounts for 30% of business travelers, and close to 40% on some routes.

Incidentally, the British company is currently more profitable than its Irish competitor even though it carries 30% less passengers.

The fight to attract business travelers is just beginning.