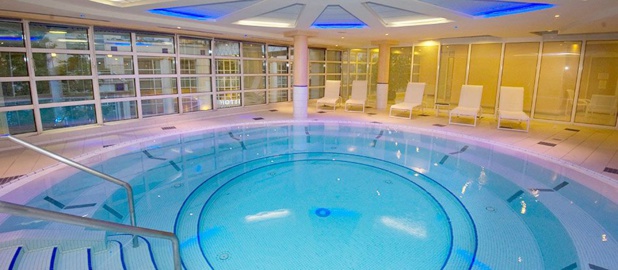 Giant thermal water bath-Vichy Spa Célestins Hotels
Waters famous since the Antiquity

Famous since the Antiquity for their therapeutic virtues, especially for the skin, the waters of Allier attract, every year, lots of spa aficionados looking for wellness treatments. The Department was also able to adapt to the new expectations of consumers: getting in shape and wellness.

With some of Europe's most modern infrastructures, Vichy offers a large range of health, beauty, physical shape, and thinning treatments. The 5 star hotel, the Vichy Spa Hôtel Les Célestins, now offers a new program of which its anti-stress benefits have been proven: the "digital detox."
The "digital detox" in practice
Upon arrival to the hotel, clients leave all of their digital devices (smartphone, tablet, laptop…) to the facility's personnel that locks them in a safe box for the whole time of their stay.

The cure lasts 3 days and 3 nights. It is made up of anti-stress and wellness care based on Vichy water and lots of massages. It is a perfect program to let go and prevent the risk of a professional burn-out.

"We receive lots of highly stressed executives who are on the verge of a burn-out who panic completely at the thought of separating from their computer or not checking their email on their smartphone every 5 minutes.

We teach them to take a step back and to refocus on themselves while they are far away from their work tools. They learn to let go and relax especially thanks to a number of exercises around respiration that will teach them to regulate their heart rate and, in turn, all of the stress produced by their organism.

Finally, we teach them to better manage their relationship with digital tools for them to no longer be a source of stress. One of the keys we give them consists of consulting their inbox only twice a day, in the morning and at night. And that makes all the difference!" explains Jean-Philippe Espenel, Wellness Coach at the Vichy hôtel Spa les Célestins.
Practical Information
Vichy Spa Hotel les Célestins
111 boulevard des Etats Unis
03200 Vichy
www.vichy-spa-hotel.fr
Rates
: "Digital detox" Cure starting at €1131 per person
Allier Tourism Office
:
www.allier-tourisme.com
Getting to Allier?
By car
Paris – Moulins : 300 km
Paris – Vichy : 360 km
Paris – Montluçon : 326 km
Lyon – Moulins : 189 km
Lyon – Vichy : 163 km
Lyon – Montluçon : 240 km
> From Paris, A71 (Montluçon) or A6, A77, N7 (Moulins)
> From Toulouse, A20, A89, A71 (Montluçon, Vichy)
> From Lyon, A72, A71 (Montluçon, Vichy), A6, N79 (RCEA) or N7 (Moulins)
By train
Paris – Moulins : 2h26
Paris – Vichy : 2h53
Paris – Montluçon : 3h03
Lyon – Moulins : 2h27
Lyon – Vichy : 1h52
Lyon – Montluçon : 3h48
By airplane
Clermont-Ferrand International Airport (04 73 62 71 00)
www.clermont-aeroport.com
Vichy (Allier): la "digital detox" au spa les célestins