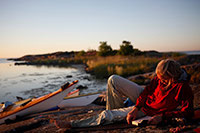 First of all, the place is a
real paradise
for both kayak and nature lovers: its thousands of eroded granite islands display plenty of fishing villages and their traditional red and white fishing sheds.
Besides, thanks to its location between
land and sea
, the kayak routes are quite still and thus, accessible to anyone.
Then,
the region is famous for its gastronomic culture
. Indeed, Gothenburg is the culinary capital of Sweden and boasts four
Michelin-starred restaurants
!
Thanks to its position, the West coast offers a wide range of seafood, from oysters, to lobsters and crayfishes and, of course, the famous herrings.
To combine
nature and gastronomy
, from the end of September, you can do lobster safaris. You first go fishing your lobster, and then cook it yourself!
For a tailor-made program
:
info@terresnordiques.com
or +46 8 55 92 10 92
More infos about your Sweden DMC:
http://www.dmcmag.com/en/dmc-sweden/terres-nordiques