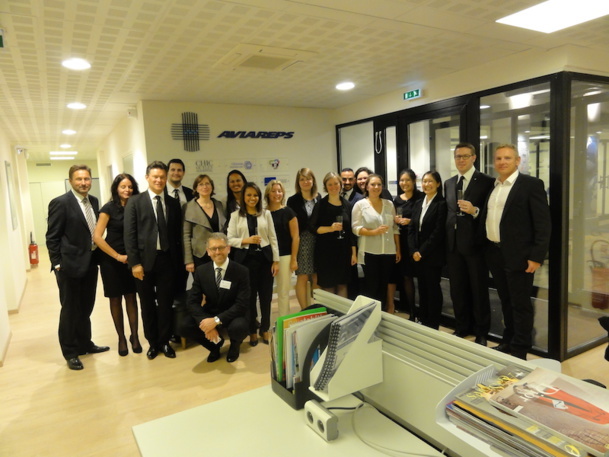 Aviareps France's 28 collaborators won't have to be laid-off to reach the 40% growth increase expected by 2020. DR
Aviareps has big ambitions on the French market.
As a branch of a German group that has just celebrated its 20 years anniversary, the parisian office handles 20 client airline and destination companies.
And hopes to attract new prospects to sustain its growth, in order to expand by 40% by 2020.
To take this on, the office is going to hire a representative in Marseille for next september.
"We have more and more requests in the South of France, especially with Air Arabia that has a hub in Montpellier"
explains Gilles Gosselin, France's director.
The group has also recently relocated to the Champs Elysée, in larger offices of 400 m2. A prestigious address especially appreciated by Asian clients.
A move that has negatively impacted the company's accounts. It's turnover has dropped from 9 million between April 2013 and March 2013 to 8,7 millions on the last exercice, closed last march, for a net result of 210,000 euros after taxes.
The entreprise has also lost a few companies: Olympic Air, that merged with Aegean, Bmi, and Air Namibia.
Departures that were compensated by the arrival of new contracts; Biman Bangladesh Airlines and Surinam Airways, and by the increase in sales of its other companies, especially that of Air Lingus, its oldest partner.
"We sell many flights to the US thanks to the improvements of connecting flight procedures. Immigration formalities very smooth in Dublin"
explains Gilles Gosselin.
Many clients also come to the agency that has an Asiana's office, of which sales to Bali or Australia are growing.
It also handles the activity of Surinam Airways groups, a very important market for Guyana. And takes care of sales for the only nigerian airline company that isn't blacklisted, Arik Air, and that interests oil groups.
Diversifying towards the hotel sector
Aviareps also possesses a tourism pole, more recently, that uses 30% of its activity and is now profitable. The office represents Estonia, Nevada, San Francisco Travel, Taiwa, Chic Outlet Shopping and Tahiti Tourisme.
It also just renewed its contract with Tahiti Tourisme by retrieving the press relation part until late 2015.
It has just added to its account a Stockholm Visitors Bureau for MICE as well as the Desroches Island hotel, an establishment of 55 villas located in the Seychelles.
This first hotelier client is showing his interest in opening up to new activity sectors, a strategy already started in 2012.
"I think that it's important to diversify in order to multiply experiences and show another side of the market"
assures Gilles Gosselin.
Its tourism pole, more turned towards marketing, can thus exchange its good practices with airline companies that are mainly turned towards sales.
This diversity also brings it a specific knowledge of markets as well as a global expertise, which is very useful during a call for bids.
"Today, clients are more demanding in terms of contents and results. We have to be more precise and creative, but we have excellent ressources compared to the competition."