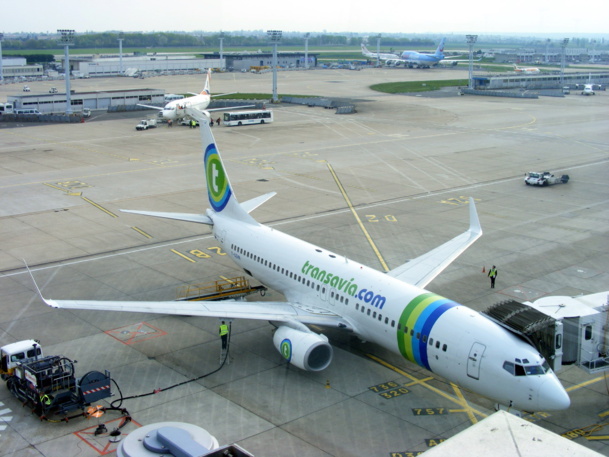 In his Perform 2020 plan, Alexandre de Juniac was expecting 100 planes by 2017 for Transavia. But the pilots accepted to fly 40… /photo Wikipedia
Two weeks of strikes, 500 million euros in losses, thousands of unhappy passengers, all for nothing?
Such is the feeling that comes out of the agreement between Air France and the main union, SNPL, concerning Transavia's development.
"We're almost in the same situation as before the strike"
laments Jean-Louis Baroux, Director of the promotion network APG.
The management has completely abandoned its Transavia Europe project which was criticized by Unions as a project that would delocalize jobs.
As for the rest, advancements remain quite small.
The fleet: 40 planes for Transavia
In its Perform 2020 Plan, Alexandre de Juniac was expecting 100 planes by 2017 for Transavia.

The pilots have accepted to fly 40.

The company was running, until now, fourteen Boeings 737.

However, these 40 extra aircrafts, even added to the 35 flown by Transavia Holland, look rather weak compared to the fleets of competitors.

easyJet runs, as of now, 202 planes and has ordered 135 more.

Ryanair has 300 aircrafts and should receive around one hundred soon.

These orders are meant to principally renew the fleets.
The pilots: a double contract
Management did not give in to the single contract condition demanded by the Union.
In lieu, Air France's pilots who volunteered to work for the low-cost branch will work under Transavia's conditions (700 flight hours versus 480 hours at Air France) but through an Air France contract.
A double contract that will complicate things further according to Jean-Louis Baroux.
"It's a true labyrinth. I think Air France will compensate the pilots' eventual loss in revenue at Transavia and include it in its own accounts, in order to render the branch profitable."
As for the bonuses given to Air France's pilots to join the branch (35,000 euros), they were in place before the strikes.
However, both parties have agreed on establishing a joint seniority list, a request that Alexandre de Juniac had accepted right at the beginning of the conflict.
Lines: 20 new destinations for Transavia
Perform 2020 made Transavia a development tool on highly competitive lines that were too expensive to exploit through Air France.

With this agreement, the company will be able recapture around twenty European destinations. But code-shares with Air France were forbidden.

Enough to protect Air France's lines and avoid another type of confusion between the brands.

In the winter program, the lines operated by Transavia are already growing by +56%.

The company will land in nine new cities with a departure from Paris-Orly (Istanbul, Tel Aviv, Budapest, Madrid, Malaga, Barcelona, Athens, Pisa and Prague).

Now let's wait for 2017 and see what will happen when the management decides to further expand the fleet and network of this branch in which it has a lot of faith.