"With over 5,000 m2 transformed into climbing walls, golf courses, sports/health spaces, the CNIT Move is the new top spot for sports & leisure at the heart of Paris,
explains Raphaël Ostré, Press Agent of CNIT Move,
either amateur or professional athletes, with colleagues or in family, while shopping or during lunch break, all visitors of CNIT can now do sports whenever they feel like it.
Thanks to a unique mixture of activities offering fun and athletic experiences, CNIT Move provides an exceptional variety of sports: initiation or improvement of golfing with Europe's largest indoor practice course, discovery of boulder climbing, accessible to everyone and without specific training necessary, and also indoor sports thanks to a large, last-generation fitness center."
A live escape game for the less athletic
The "live escape game" is a team game where players experience full immersion, locked inside a room, and must solve a series of mysteries to succeed in escaping. But no need for physical efforts in this game, so even the less athletic can participate!

For each universe, a mission is given to the teams, through a thematic scenario, who must accomplish it in less than 60 minutes. The CNIT Move has 8 game rooms and 1 large room spread out over 1,200 m2, making it the largest game space in the world.

The missions follow cinematographic worlds such as "The Wizard School" (inspired by fantasy films), "War of the Planets" (inspired by science-fiction films), "Jurassik" (inspired by adventure films), "Once upon a time in the West" (inspired by Westerns) or "Serial Killers", all of it taking place inside true cinema sets.

Each room can hold between 2 to 14 participants, allowing for 90 people to play at the same time.

Practical Info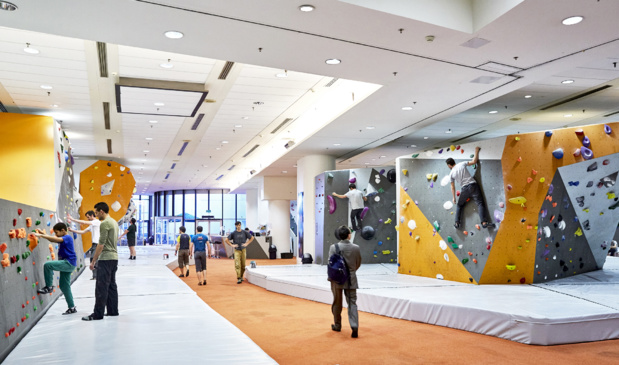 Climbing walls of CNIT Move
CNIT Move
2 Parvis de La Défense, Paris
www.cnit.com
Getting to CNIT Move?
Car
The Quatre Temps and CNIT are accessible by the A14 and A86 highways. Several parking lots are available 24/7: the CNIT Parking, Parking Wilson, Parking Valmy and Les Quatre Temps PA/PB Parkings.
Public transportation
Metro or RER: station La Grande Arche on line 1 of the metro and on the RER A
Tram: T2, stop « La Défense »