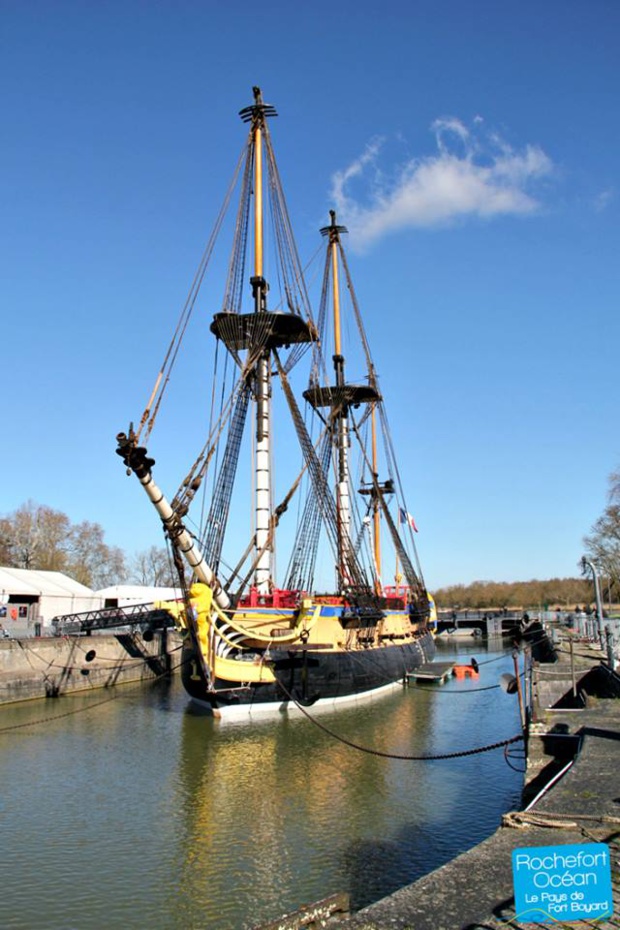 The Hermione frigate (Photo: Rochefort Océan Tourisme)
Throughout the year 2016, Rochefort tells the story of its maritime history and its different periods.

One of the high points is the Hermione frigate, a French war ship in service from 1779 to 1793, that has opened for visits.

An association built an identical reconstruction of the Hermione frigate, a ship on which La Fayette left in 1780 to join the American insurgents during the Unites States' War of Independence. The original version of the ship was rebuilt in 11 months. The frigate will take to the sea on June 4th and will be back in Rochefort on July 23rd.

"Famous for the Hermione epic, the city of Rochefort established itself as a harbor for large historic ships.

Similarly, from June 4 to July 8, the "Shtandart", the replica of a Russian frigate from the 18th century which was a flagship belonging to Tsar Peter the Great, will be accessible to visitors during an exceptional stopover," explains Stéphane Morand, of the Charente-Maritime CDT.

Among other new products in connection with the maritime history of Rochefort, an acrobatic path on the bridge of a ship inspired by ropes course parks will be set up this summer. The «Accro-mâts» is an attraction that should be particularly appealing to families.

Rochefort Tourism Office Website
www.rochefort-ocean.com
How to reach Rochefort?
Train
3h30 from Paris, 2h from Bordeaux, 2h30 from Nantes
30 minutes from La Rochelle or Surgères
La Rochelle or Surgères TGV Train Stations then shuttle until Rochefort.
To get around, to reach La Rochelle or Rochefort, between the 2 communes: 17 daily shuttles!
Roundtrip tickets cost €4 max, unique ticket including the train, bus ticket with space for your bicycle.
Rate valid all year. Ticket on sale at the blue machines of the regions and the ticket offices of the SNCF stations.
Airplane
Airplane
La Rochelle / Ile de Ré Laleu Airport
Rochefort / Saint-Agnant Airport (inquire within)
Driving
1h30 from Bordeaux : highway A10 until Saintes, then A837 until Rochefort
1h45 from Poitiers : highway A10, exit n°33, "Niort sud, La Rochelle, Rochefort"
2h from Nantes : highway A83, exit LA Rochelle, N237 Rochefort
4h30 from Paris : highway A10 exit N°33 «Niort Sud, La Rochelle, Rochefort»