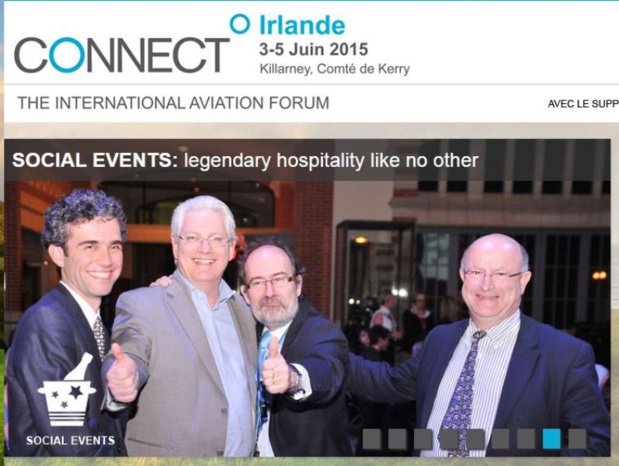 The participant of the trade-show Connect will have the opportunity of seeing Laurent Magnin, the CEO of XL Airways (without his hat) hug Francois Bacchetta, General Director of easyjet. DR
TourMaG.com - What is the 12th edition of the Connect trade-show going to look like?

Karin Butot: Close to 43 airline companies have already confirmed their attendance as well as airport dealers such as Vinci, Transdev, Keolis, or even the Canadians SNC Lavalin. We will also receive tourism offices.

In total, more than 350 participants will show up and we should welcome as many visitors as last year in Marrakech.

We're offering as many conferences and workshops on current event thematics, such as how to use state funding, the challenges of the transatlantic market, or the evolutions of platforms for the targets of 2020.

TourMaG.com - Any new events for this year?

Karin Butot: We have launched briefings reserved to airports and airline companies, in order to benefit constructive exchanges and to avoid political cant.

An opportunity to better understand the needs of everybody in order to put in place a pragmatic development strategy.

This is a request coming from companies that wanted to be able to exchange with their partners far from eavesdroppers.

We have also launched two seminaries on Ireland and Greece.

We're trying to give an overview of each market, to understand its strengths and weaknesses, the dynamics, the trends and behaviors of travelers in every destination.

TourMaG.com - The event will take place in Ireland, the birthplace of Ryanair. Will Michael O'Leary, it's CEO, be there?

Karin Butot: We invited him, but he's very busy. The company will be there, of course, through the representation of its Marketing Director, Kenny Jacobs, who will tell us about the digital turn that Ryanair has taken.

We will also welcome another Irish representative with Aer Lingus. We're also in contact with Google, whose office is in Dublin.

The event will take place in Killarney, in the Kerry country, a very hospitable region. The atmosphere will be serious but friendly, and there's no doubt that Guinness will be served generously!