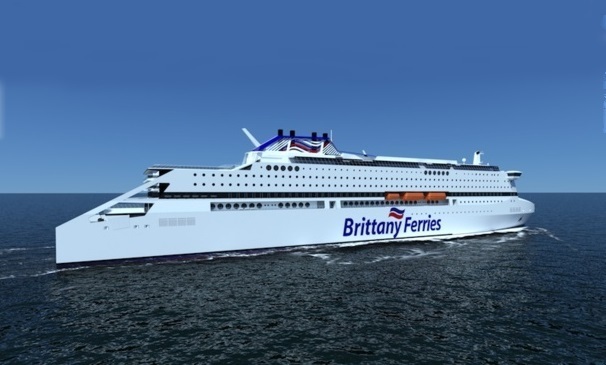 PEGASIS, the next Brittany Ferries ship will be the spearhead of a new generation of environmentally friendly ships. DR
The Brittany Ferry company is launching a production line bringing 33 vacation spots in its top three destinations: Britain, Ireland and Spain.
This selection of hotels and tours, already featured in last year's brochure, is now showcased in its own catalogue.
"We remain in the codes of our brand by highlighting the best of Brittany Ferries"
says Florence Gourdon, France's Sales and Marketing Director.
She hopes to attract a clientele
"in search of refinement and quality."

As of today, of its 355,000 French customers, 25 % choose a packaged stay, against 75% who opt for a land transport.
And of the passengers traveling between France and Great Britain, 75% choose to vacation in London.
The company has doubled its offers in the British capital, with fifty accommodations including a large majority of standard hotels such as Ibis, Mercure, Holidays Inn and Travelodge.
"This is a demand from our customers who feel more secured when staying in hotel chains"
says Florence Gourdon.
This selection of hotels is aimed at both clients who come by car, with accommodation in the outskirts that include free parking, and on-foot travelers who wish to stay in the city center. The group has also scheduled a year-long package to visit the
Harry Potter Studios.
London is also in the market for gift packages, which are completely renovated this year. Four product lines from 190 to 969 euros are now available, nearly half of them in the capital.
2300 gift packages were sold last year and already 1000 passengers have been seduced by this new offer since December.
"As a manufacturer we assure the availability of each gift box to avoid falling into the traditional disadvantages of such gift packages"
wishes to clarify Florence Gourdon.
New and greener ships
Production has also been expanded to other destinations in the group.
Ireland, chosen by 57% of French who purchase a residence, is developing new products, such as the Wild Atlantic Way. A 2500 km long coastal road along the island's spectacular west coast.
Spain and Portugal have attracted 3000 people, including 500 to 600 for vacation stays.
As for organized tours (which brought 1,000 clients in 2013), there are six products including new offers in Scotland and London.
In terms of ferry activity, the summer season has been rather dynamic, with a 9% growth of passengers crossing the Channel, the best result since 2009.
On the Havre-Portsmouth-Santander route, the company will add a new boat: the Etretat, a former Norman. With a capacity of 375 passengers as opposed to 102, it will be cheaper than other boats in the group.
"This charter vessel does not meet the same standards as the rest of our fleet. If we were an airline, it would correspond to our economy class"
compares Florence Gourdon.
Doted with little common areas, lack of entertainment for children, limited choice of catering, Etretat will be the only "economy" ship of Brittany Ferries.
Since the company does not want to overlook its quality of services and benefits onboard.
It announced the construction of three new vessels running on liquefied natural gas.
The first, called PEGASIS will be delivered in late 2016 and scheduled to be in service in 2017.
It will cover long distance lines to replace the Pont Aven, with a capacity of 2000 passengers, this ship will have reduced gas emission.
The company's ambitious decision will bring forth a coherent economic and environmental model in the long run.