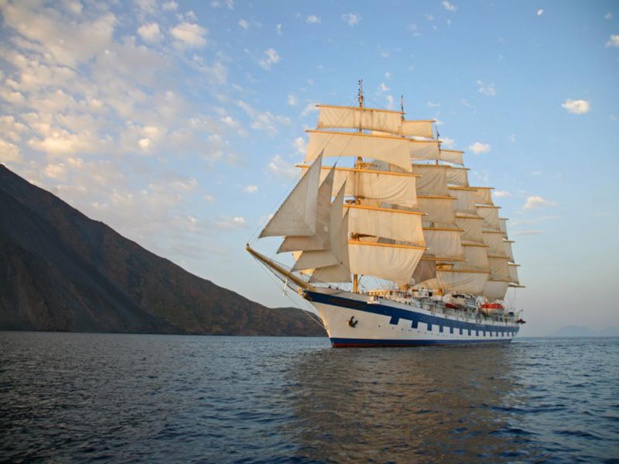 Star Clippers and its cruise onboard the Royal Clippers wins first place of the ranking - Photo Star Clippers
The winner of our ranking was love at first sight! It is the Star Clippers cruise, onboard the Royal Clipper.

While it did not receive the best ratings in terms of services, they are still of great quality. The atmosphere is very unique in part due to the boat's nature itself (that esthetically outshines the competition, by far.)

Furthermore, the itinerary organized is very well thought-out and offers unique stopovers. Note that with the clippers, it is often possible to take a swim during the stops, since the boat never fully enters the harbors (shuttle system.) Meaning that swimming, with or without the loaned material, can be done in the middle of the sea… weather permitting, of course.

If you are looking for peacefulness and enjoy organizing visits at your own pace (the stopovers are longer than on big cruise ships), treat yourself to this "little" gem. Only downside: the price… but it is perfectly justified.

With a medium price and wonderful services onboard, La Belle de l'Adriatique (francophone) is THE ideal cruise on this segment. Furthermore, you'll experience, at a gentle pace, a cruise that is truly designed for an exploration of the Adriatic, and you will avoid overdrawn cruising sessions.

For the very high-end range, Seabourn and Crystal Cruise will meet your expectations, also offering judicious itineraries and near custom-made, impeccable service!

With the displayed promotion of its excellent services, the Horizon Med by CDF will be our choice for a medium range cruise at less than €1,100, if we were to make an exception on the itinerary retained for this study.

For its unbeatable price, the Mediterranea of Costa (departing from Venice or Trieste) is our favorite for the small budget range. If you are looking for entertainment, events (themed based, dances…) and you appreciate being well surrounded, then you will not be disappointed.
Other operators:
Disney Cruise
, whose upcoming availabilities in Europe will be starting in August 2016, with a traditional trip in the Mediterranean: Barcelona, Naples, Rome, La Spezia, Nice, and a base rate starting at €2,500 per person.
Azamara and Seadream
do not offer cruises in the Adriatic Sea in this end of the year 2015. The Paul Gauguin cruises offered a yearly departure in August 2015 with a base price of €3,996 per itinerary: Venice, Split, Dubrovnik, Korcula, Vis, Hvar, Rovinj, Piran, Venice.
As it was originally designed for navigation in Polynesia, the
Paul Gaugin
can host 332 passengers. While Plein Cap Croisières won't be out to explore the Adriatic Sea this Fall, it offers a very interesting Francophone cruise around the theme of
"The Victory of Samothrace"
: Rhodes, Cap Sounion, Paros, Aeolian islands, Lesbos, Corinthe canal, Dardanelles and Messine straits, Stromboli...
Departure on October 3rd for 9 nights starting at €1,990 onboard the MS Berlin (380 passengers.) On September 17th, Intermèdes provided a cruise taking the same trip as that of CroisiEurope (onboard MS's Belle de l'Adriatique), starting at €2,270 (including air transportation.)
This trip is offered by Terre Entière, that was recently repurchased by Intermèdes.
For additional information, do not hesitate to contact us via
consultourisme@gmail.com