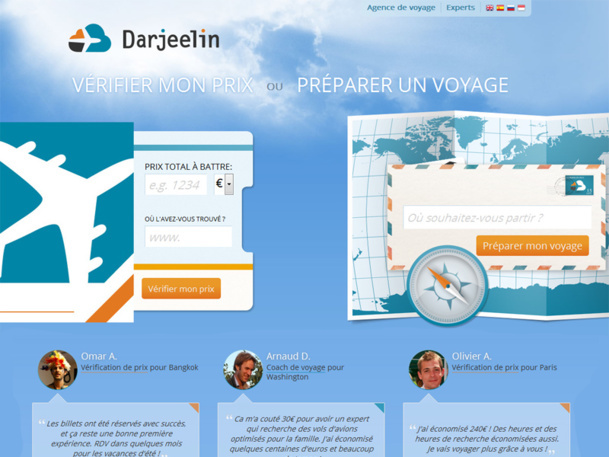 TourMaG.com - Can you explain the concept of Darjeelin?

Charles Guilhamon: Darjeelin was born in late 2012. This is a flight comparison website for the general public based on human work.

This is not an automated search engine, but a platform run by experts who seek a cheaper price than the one submitted by the user.

Our experts are then paid according to the savings generated from their research.

We are now launching this concept Business to Business, and want to work with travel agencies.

TourMaG.com - But travel agencies are supposed to already be experts in travel?

CG: Some travel agencies are experts in the construction of itineraries and in the organization of trips, however this does not necessarily mean they are experts in finding flights.

TourMaG.com - So who are your experts?

CG: Some of our experts are travel agents, but not only. We have people who have developed expertise in the search for flights, who are crafty, or who have special knowledge on the functioning of a specific airline.

We turn down 9 out of 10 experts who apply to work for us, we take only those who have a real added value.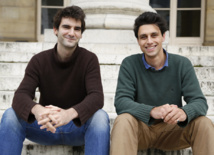 Guilhamon Charles Bailey and Hugo, the founders of Darjeelin - DR
TourMaG.com - These experts, do they work full time, and do they have special tools that you provide them with?

CG: Our experts work a few hours per day, in addition to their professional activity.

If in their professional lives, they have access to pros tools, they can use them.

As for the other experts, they use the tools available to the general public, they just know how to use them better than us.

TourMaG.com - Your search is not automated, meaning that the response won't be immediate, it this not a handicap in this time of "instant gratification"?

CG: We strongly believe in the human expertise.

Darjeelin guarantees to respond within 4 hours, but generally we give an answer in less than an hour. Our challenge is to provide a flight that is more interesting than the price any user can find within two seconds of internet browsing. And it works...

The average savings on long-haul flights reached 20%! In 2013, we made €2 million in profit.

TourMaG.com - What is the procedure to follow for agencies wishing to use your services?

CG: They must complete an online form. After, they have access to our platform via their own login and password. Out of our 250 experts, we selected our most fit ones to work with travel agencies.

Finally, they have two options: either they submit specific flight requests and Darjeelin is compensated by taking a percentage of the savings, or our platform subcontracts all tickets sales.

In the latter case, a fixed amount is paid by the agency for all ticket search requests. The agencies then pay us at the end of the month.

TourMaG.com - Who issues the ticket?

CG: The travel agencies issue the ticket.

We see ourselves as "the advice filter" for finding a cheaper ticket.

TourMaG.com - Do you have contracts with airlines?

CG : No, but possibly one day…