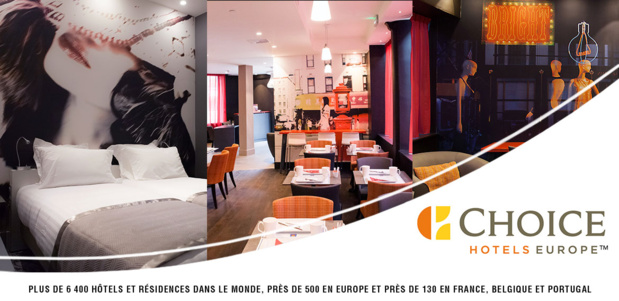 Comfort Hotel Paris Sixteen Montrouge
After more than a year of construction work, this new ComfortTM facility chose to focus on artistic creation and joins the new trend of mural art photography, or "Wall Art", that incorporates design as a way to redraw spaces.

Comfort Hotel Sixteen invites clients to stay in one of its 34 entirely renovated rooms with 8 completely atypical atmospheres, in Montrouge in the Hauts-de-Seine (92).

It took no less than sixteen months of construction work to finish the complete renovation of the facility. All of the rooms were redesigned by Bénédicte Van der Maar and are each adorned with a "Wall Art" piece.

All of the rooms are equipped with air conditioning, flat-screen TV, free WIFI connection, a safety box, and double-glazed windows to guarantee optimum comfort.
In this designer and elegant setting, there are also many amenities for clients to enjoy like an indoor parking, a work desk, a lounge for relaxation, or a bar - breakfast space for eating.
The appeal of Comfort Hotel Sixteen resides in this unique concept: an artistic and photographic facility, led by the art Director, Bénédicte Van der Maar, where a unique and customized ambiance inhabits every room.
"The idea of Wall Art was to connect contemporary art photography to interior design,"
explains Bénédicte Van der Maar.
These giant photos, or "Wall Art" pieces, cover all of the hotel's spaces: from the lobby to the bedrooms and the bar area. Each has a story to tell, from Paris to New York, going through Colombia, Nepal, Hollywood: "Chérubins", "Dandelions", "Asia", "Sky", "Taganga",…
Informations pratiques
Comfort Hotel Sixteen Paris Montrouge
16, place Jean Jaures,
92120 Montrouge
Phone: + 33(0)1 40 92 98 18
Rates
: double room starting at €85
www.ChoiceHotels.fr/fr488