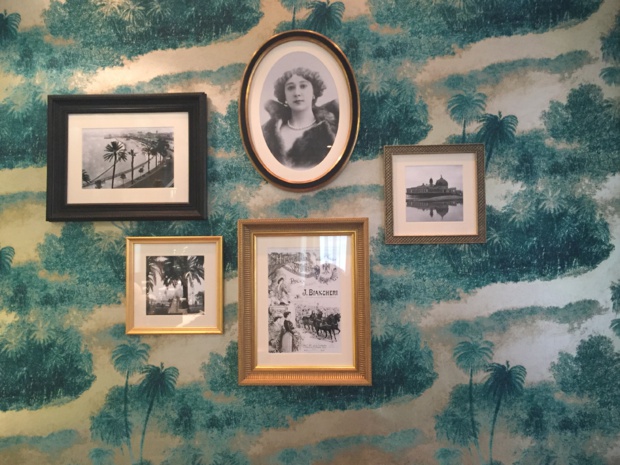 Room of Villa Otéro - with a portrait of Carline Otéro in the middle.
At the peak of her glory,
Caroline Otéro, a famous Cabaret dancer from the Belle époque
retires in Nice in 1915 until her last day. She dies in 1965 in Nice, ruined at 97 years old.
Dancer, actress, and the first feminine celebrity of French cinema but also a courtesan, she was admired by the most powerful men of her time. She was the mistress of King Edward VII of England, King Leopold II of Belgium, Duke of Westminster, but also of the Council President, Aristide Briand.
This femme fatale provoked 6 suicides and many clashes.
Both sulfurous and glamorous, she embodies the Belle époque perfectly, a time during which tourism emerged in the French Riviera with the construction of many luxurious villas that Villa Otéro is inspired from.
"Caroline Otéro never lived here,
explains Camille Tournade, Director of the Hotel,
rather we looked to revive the spirit of the time through the prism of her character and she is omnipresent in the lobby and rooms."
The concept of the guest home
The 38 rooms of the Villa Otéro (standard, superior, superior terrace) are presented like
the guest rooms in a large family home.
"Right at the reception, we socialize with the clients as if they were arriving at a friend's house
, insists Camille Tournadre,
we try to know their taste and better target their expectations to provide them with the most personalized service we can give them, as if we had always known them.
We want them to feel as if they were at a friend's house."
And the retro and feminine decoration of the lobby plus the rooms adorned with blue, green, or mauve tapestry conveys this sensation right away…
This hotel is a true the
antithesis
of rooms in large functional and impersonal hotel chains.
Highlights of Villa Otéro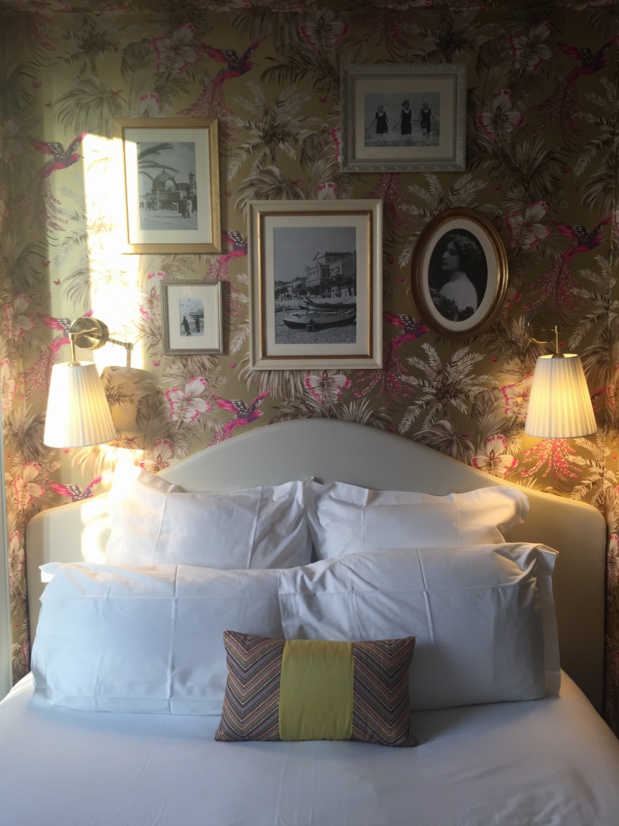 Room of Villa Otéro
The large snack of Villa Otéro
Everyday, from 2pm to 6pm, clients of Villa Otéro are invited to share the free "Grand goûter." On the menu: tasting of sweets, patisseries, macarons, tarts along with tea, coffee, chocolate.

Aside from this snack, hot drinks are available to clients in the lobby all day long.

The welcome tray
A selection of "Palais des thés" teas and a Nespresso machine is made available to clients in all of the superior rooms.

Balconies and Terraces
Ten rooms of Villa Otéro have a balcony and five are equipped with a large furnished terrace, ideal to admire the sunset.
Practical Info
Villa Otéro
58 rue Herold, Nice
http://www.villa-otero.com
Rates
: rooms from €70 to 300 depending on season.
Getting to Nice?
Plane
The Nice Côte d'Azur Airport is the second biggest airport in France. It serves 105 destination in 34 countries by 53 companies. In 2014, its total traffic amounts to 11.7 million passengers.
List of destinations and airline companies leaving from Nice, daily realtime schedule:
http://www.nice.aeroport.fr
Road
The highway that leads to Nice is the A8.
Five highway exits were established to access the neighborhood of your choice in Nice.
Exit n°50 : Promenade des Anglais
Exit n°51 : Saint-Augustin / aéroport
Exit n°52 : Saint-Isidore
Exit n°54 : Nice nord
Exit n°55 : Nice est
Train
SNCF Train Station
Avenue Thiers
http://www.voyages-sncf.com
The rapid and express trains (TGV, corail train) link the French Riviera to all the French regions and all the major cities of Europe. The TGV Méditerranée does the Paris to Nice trip in 5h30.