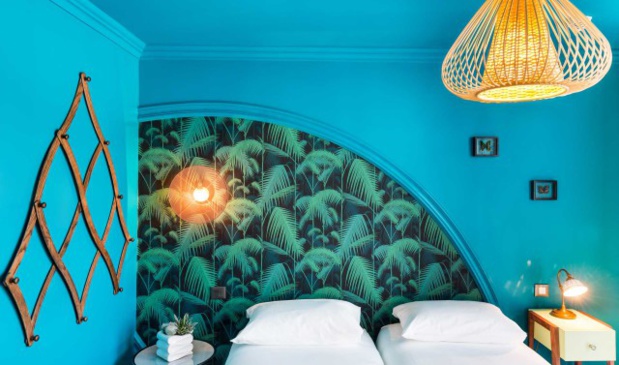 Room - Villa Bougainville
The decoration of Villa Bougainville echoes the expeditions led by the navigator Louis Antoine de Bougainville, a navigator impassioned by botany.
"The Coste and Butin Atelier designed the decoration of the hotel
, explains Hameline Ferrero, the hotel's Director,
they wanted to recreate an atmosphere of abundance linked to the luxuriance of exotic vegetation."
Turquoise blue and water green walls, wallpapers with bird patterns, cabinets of curiosities, and vintage-style eclectic furniture evoke an exotic atmosphere right upon entering the lobby.
The 46 rooms of the Villa Bougainville (Single, Standard or Triple) prolong this journey.
Rust or turquoise colored, these rooms are adorned with astonishing wallpaper that illustrate lush and indistinct foliage.
What Village Bougainville has to offer
The vintage furniture and collectible naturalist drawings hanging on the walls truly immerse clients into the scientific and botanical world of Bougainville's time.

Everyday, from 2pm to 7pm, is the time of "l'Odyssée gourmande", a tasting of ice teas assorted with fresh and dry fruits provided for free to the clients of Bougainville.

Other advantages reserved to clients of Bougainville include: welcome trays in the rooms and free coffee in the lobby.
Practical Info Villa Bougainville
29 avenue Thiers, Nice
http://www.villa-bougainville.fr
Rates
: rooms from €70 to 300 depending on the season.
Getting to Nice?
Plane
The Nice Côte d'Azur Airport is the second airport of France. It serves 105 destination in 34 countries by 53 companies. In 2014, its total traffic amounted to 11.7 million passengers.
List of destinations and airline companies leaving from Nice, daily realtime schedule:
http://www.nice.aeroport.fr
Road
The highway that leads to Nice is the A8.
Five highway exits were established to access the neighborhood of choice in Nice.
Exit n°50 : Promenade des Anglais
Exit n°51 : Saint-Augustin / aéroport
Exit n°52 : Saint-Isidore
Exit n°54 : Nice nord
Exit n°55 : Nice est
Train
SNCF Train Station
Avenue Thiers
http://www.voyages-sncf.com
The rapid and express trains (TGV, corail train) link the French Riviera to all French regions and all major cities of Europe. The TGV Méditerranée enables to travel from Paris to Nice in 5h30.