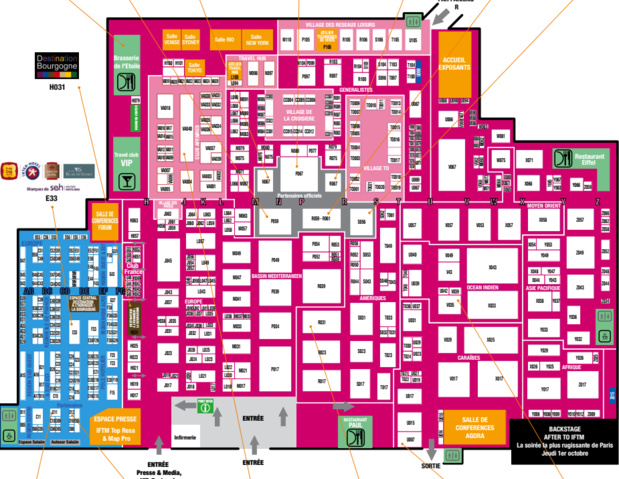 Map of IFTM Top Résa and Map Pro 2015 at the Pavillon 1 - DR: Reed Expo
More practical. These are the two fitting words to summarize this new edition of IFTM Top Résa that opens today in Porte de Versailles, Paris.

More practical for visitors who will no longer have to take the never-ending escalators and moving walkways that lead to the Pavillon 7.2, where the trade-fair took place for many years.

It is now hosted in the Pavillon 1, right next to the Parc des Expositions of Porte de Versailles. This enables professionals to save a few minutes when reaching the trade-fair and to not tire their feet.

Another practical aspect of this year's edition: cohabitation with Map Pro inside the Pavillon. Whereas in 2014 the two trade-fairs were organized simultaneously, one still had to step out of the IFTM and go down the stairs to reach the Pavillon 7.2 where the Map Pro was taking place.

Close to 1,500 brands will be exhibiting in this 2015 edition, spread out over 31,000 m2, versus 27,000 last year.
One pavillon and one badge
Yet on this Tuesday 29 and Wednesday 30 of September 2015, this will no longer be the case since the two events are taking place in the same area. And, icing on the cake, they can be accessed with one single badge.

Access to the Map Pro stands will be on the left, just after the entrance.

The space devoted to tour-operators and coach companies is divided in several thematic spaces. There is a Hoteliers pole and another pole devoted to Partners.

Then, in the remainder of the area, the stands are spread out according to the geographic zone of the exponents: Center, South-West, South-East, Île-de-France, Rhône-Alpes, West & East, Europe…

On its end, the France Club is located in the IFTM section but right next to the Map Pro section, making the symbolic bridge between the two conventions.
Thematic programs online
The IFTM will also be divided into geographic areas:
Europe, Mediterranean Bassin, Americas, Indian Ocean, Caribbean, Africa, Asia-Pacific, Middle-East…
They are located on the first part of the pavillon.
Behind, we will find thematic zones such as the
Tour-Operator Village, the Cruise Village
, the Business Club, the Leisure Network Village, and, this year's new addition, the Parks Village.
Various restaurant spaces are also provided: Paul close to the entrance, the Restaurant Eiffel in the Asia-Pacific zone, and Brasserie l'Étoile at the end on the left, close to the Business Club. Just in front is located the Travel Club VIP.
IFTM's website features the full program of both trade-fairs: for
Leisures
,
Business Travels
,
Mice
, and
Map Pro
.
Information on all of the exponents can be found through a thematic search engine.
IFTM Top Resa, from September 29th to October 2nd, 2015, Paris - Porte de Versailles in Pavillon 1.

Tuesday September 29: 9:30am - 7pm
Wednesday September 30: 9:30am - 7pm
Thursday October 1st: 9:30am - 20:30pm - evening session!
Friday October 2nd: 9:30am - 5:30pm

Map Pro: same place, but different dates and times.
Tuesday September 29: 9:30am - 7pm
Wednesday September 30: 9:30am - 7pm