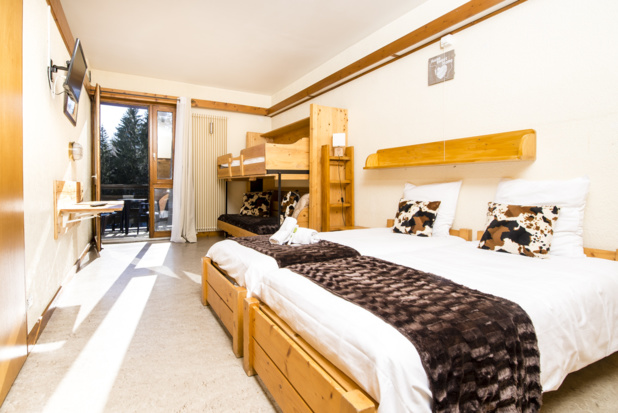 Room at the village Balcons du Mont-Blanc
TourMaG.com - What is the history of the group ULVF?

Vanessa Pellé: "Vacation ULVF has been around for 40 years, it is an operator of social and fair tourism. Historically, it was created by large works councils such as Alsthom, Areva, that created vacation villages for the paid vacations of their employees.

They first started by managing these structures themselves but the job was quite demanding so they created an association to do so. This is how ULVF was born, which, today, remains an association under the law 1901 as well as a tourism operator.

We started with 6 vacation villages. Now we own over 20 vacation villages all over France, on the seaside, in the mountains, and on the countryside."

TourMaG.com - What are the brands of ULVF?

V.P.: "We developed different brands. We provide village-clubs with entertainment and all-included formulas. We also created the residence brand that is devoted to rentals.

We also offer the "camping" brand with severals campgrounds in Oléron or Corsica for example.

And very recently, we developed the hotel brands. It is brand-new new since we just launched it in August 2016!

This brand stands out from the others as it is more upscale and the offers are different. Contrarily to other vacation-villages, we are going to target families along with seminaries, focusing more on a niche clientele.

We have two new hotels. One is located in Albertville inside the medieval city, the only hotel on this side of the city.

The hotel reopened after major renovation work. It targets seminaries but also the sports niche since we have partnerships with French athletic federations such as the ski and ice hockey federations who send athletes on location for their training."

TourMaG.com - What are ULVF's most popular properties today?

V.P.: "The Balcons village of the Mont-Blanc that opened in the Alps, near Megève, one year ago has the particularity of providing its own ski slopes. 4 km of ski slopes are accessible directly from the rooms, something unique in France. We offer a week in half-board + ski rental + ski lift package to the diamond area, starting at 585 euros per adult.

The other popular destination is the Fréjus village club, especially during the Nice carnaval and during the summer season.

The offer is all-included for groups only, with a base of 20 people minimum, 6 days/5 nights in the Domaine de l'Olivaie in Gilette for €450 per person, in full board, with the festivities of Nice and Menton included!"
TourMaG.com - Will you open a new hotel soon?

V.P.: "Our new baby coming is a 4 star hotel, l'Auberge du Cheval Blanc, 10 minutes from Disneyland Paris. We are the first operator in social and fair tourism to have a 4 star hotel in Disneyland!

True to our brand's DNA which consists in making a maximum amount of tourists take vacations without being held back by the price, we offer very affordable rates.

The family room will cost around €150 and we will also provide a package for 1 night in half-board + 2day/2 Disney parks for €208 per adult and €177 per child. Like always, the benefits will be reinvested in the ULVF for renovations and payment of employees.

We will also offer a free private shuttle for the transfer between the hotel and Disneyland Paris.

We are going to establish a seminaries offer since there are many companies in the surroundings and we want to participate in the local development. We are also going to contact coach companies and travel agencies.

The hotel is currently being built. It will be a boutique-hotel type of facility with an Art Deco style, its opening is scheduled for December 1st, 2016."

TourMaG.com - How is the group ULVF doing today?

V.P.: "It is doing very well since we increased our revenues by 15%. In 2016, our turnover amounted to 15 million euros and we opened three facilities in two years.

We are also going to have new headquarters in 2017 because we keep growing but we will remain in Chambon Feugerolles, near Saint Etienne, in the 42 department.

In fact, we insist on staying in a small province town to keep the local economy operating rather than moving to a big city like Lyon or Paris. This is a logical continuity of the ULVF spirit as a player of social and fair tourism in France.
Practical Information
Vacances ULVF
14 rue de la République
42502 Le Chambon-Feugerolles
phone : 04 77 56 66 09
www.vacances-ulvf.com