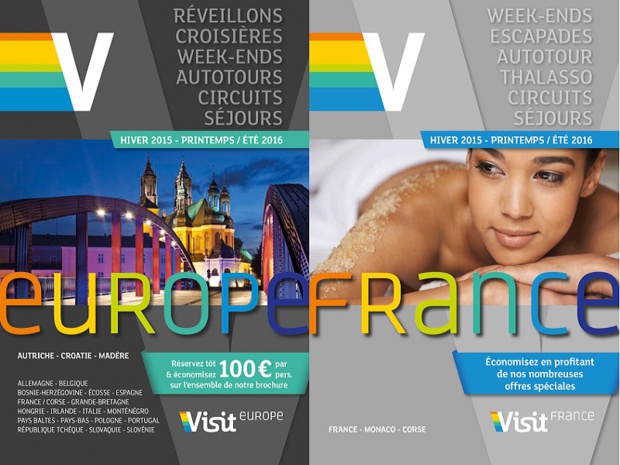 Visit Europe publishes its Europe, France, and Festivities brochures for Winter and Spring 2015/2016 - DR: Visit Europe
Visit Europe's
products really took off this summer.
The tour-operator (TO) announces an increase of
45% of its business turnover and of 47% for its number of passengers between April 1st and late August 2015.
In this timeframe,
27,036 people
took a trip with Visit Europe versus only 18,650 in Summer 2014.
The TO
"certainly benefited from a carry-over effect of travelers who were initially planning to go to Tunisia,"
believes Pascale Gaston, Executive Director of Visit Europe.
She recalls receiving numerous requests the week following the attack on the Port El-Kantaoui beach.
The Top 3 most popular destinations were, in the following order,
Croatia, Madeira, and France.
3 new destinations in Europe
And to continue with its momentum, Visit Europe keeps on enhancing its offer for the Winter/Spring 2015/2016 season for which it has just released 3 brochures.
"In July-August, we sell around 30% tours and 70% stays. The remainder of the year these proportions are reversed.
Generally, since people reserve tours much more in advance to take the time to prepare their trip, we are publishing our brochures earlier this year,"
explains Pascale Gaston.
The Visit Europe catalogue offers an enriched 2015/2016 transportation schedule with 700 rotations leaving from all the province's airports to more than 20 destinations in Europe, including three new novelties:
England, Ireland, and Scotland with 5 tours.
The travel company is also developing its production in Prague (Czech Republic) and Lisbon (Portugal) with new tours.
"These are our star tours
, specifies the Executive Director.
These two destinations are culturally rich and offer the possibility to shine while sleeping in the same place. These types of products are suitable for our senior clientele."
Production in France and for Holiday dinners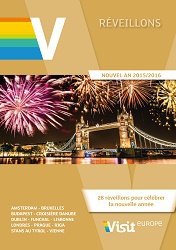 Front page of Visit Europe's festivities brochure - DR: Visit Europe
The Visit France brochure is integrating, on its end, a new offer of village clubs in
12 famous stations such as Courchevel, La Plagne, Les Deux Alpes, Tignes, l'Alpe d'Huez.
Visit Europe offers stays starting at
€480 in full board
including the children's club.
The TO is also releasing its catalogue specialized in festivities with a selection of 28 products. Concerning these types of offers
"we're getting very good results that are growing year after year,"
rejoices Pascale Gaston.
This production includes stays in 4 star hotels in Riga (Latvia) or in Tyrol (Austria.)
But the most popular Christmas dinner remains the
Emperor's Ball in Vienna (Austria.)
A product that some people, sometimes, reserve up to one year in advance!