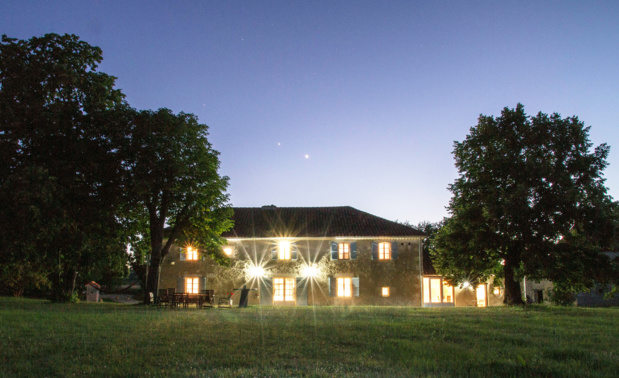 Au Perrisson Estate
TourMaG,com - How did you get the idea for such a project?

Laetitia Vaghini: "The project of opening an eco-responsible guest house is born out of several desires and opportunities: the desire to be enterprising in association with 3 friends, the desire to create a high-quality and eco-sensitive touristic accommodation in the South-West, the desire to host, exchange, and share the wonders the Gers region has to offer.

The idea has been sprouting over the last 10 years and would grow fonder every time we returned from a trip. In 2014, professional opportunities enabled us to reconvert ourselves and create this project that we had our hearts set on.

Today, we offer three spacious guest rooms of contemporary style inside the main building and an independent, modern and refined, lodge overlooking a natural pool.

TourMaG.com - Do you come from the hotel sector?

L.V.: "No, we do not come from the hotel sector. However, we are passionate about travel and we had the opportunity to discover different cultures and different countries.

During these trips, we tested many accommodation sites. Today, we offer our clients what we would have liked to find in a guest room in Gers."
TourMaG.com: Where does this ecological sensitivity come from?

L.V.: "This ecological sensitivity has always been a part of our lives. It has amplified year after year for several reasons; we lived 20 years in Paris for work. Pollution and the "eco-irresponsible" behaviors of the city no longer suited our lifestyle and beliefs.

Furthermore, a trip to Costa Rica in 2010 triggered our commitment. This stay made us aware that tourism can be ecological, responsible, and of high quality, and that France is very behind on this aspect of tourism in spite of its natural and cultural wonders.

Finally, the current climate challenges motivate us to be evermore active on preserving our environment."

TourMaG.com - What activities can be practiced around your hotel?

L.V.: "The range of activities around our hotel and particularly in the Gers is multifold: Gers is a land of history, culture, festivals, cuisine, sports…

Amongst the most famous events, Gers hosts the International Jazz Festival in Marciac, the salsa festival Tempo'Latino of Vic-Fezensac, and the Bandas Festival of Condom.

The historical and authentic visits of cities and villages of Lectoure, Condom, Auch, La Romieu, Larresingle, Fourcès, Bassoues, Barran offer an excellent overview of our region.

For those with a sweet tooth, traditional markets offer a very wide choice of flavors and local products. Without forgetting the excellent restaurants and guest farms that serve our wonderful South-West cuisine."
TourMaG.com - Do you offer activities?

L.V.: "Close to the estate, various athletic activities such as horseback riding, biking and hiking excursions, ziplining, walks by the river or in canoe, fishing can be practiced either solo, in couple, or with the family.

We provide our guests with a natural pool to relax or swim, mountain bikes, outdoor games and board games for summer nights, or video-games and a large DVD library for the winter…"

TourMaG.com - What is your target foreign clientele?

L.V.: "We target all types of clientele whether French or English. We speak fluent English and Spanish, and a bit of Japanese and Italian.

We offer to pick up our guests at the airport and the train stations of Toulouse and Agen, we devote a portion of our library to foreign languages books, we can guide them in their exploration, we can provide foreign newspapers, and adapt ourselves to their cooking tastes for breakfast…"
Practical Info
Domaine Au Perisson
LD AU PERISSON
32350 LE BROUILH-MONBERT
Phone: 09 66 81 90 66 / 06 72 06 50 10
auperisson@gmail.com
www.auperisson.fr
Rates
: starting at €70 for a double room
Getting to Gers?
Car
Gers is around 690 km from Paris
Leaving from Paris:
-Paris-Brive-la-Gaillarde by the A20, then N20, direction Cahors, then A20 direction Auch, Montauban Sud, Castelsarrasin, then D928 and finally N124, direction Auch.
-Paris-Bordeaux by the A10, then A62 (direction Toulouse), and the N21until Auch.
Train
- TGV: departure from Montparnasse Station until Toulouse-Matabiau, then Toulouse-Matabiau-Auch by the TER
- Corail Train: departure from Austerlitz Station until Toulouse-Matabiau, then bus trip until Auch.
Plane
There are no flights between Paris and Auch. Take flights to Toulouse and reach the destination by train or car.