The Gray d'Albion Shopping Arcade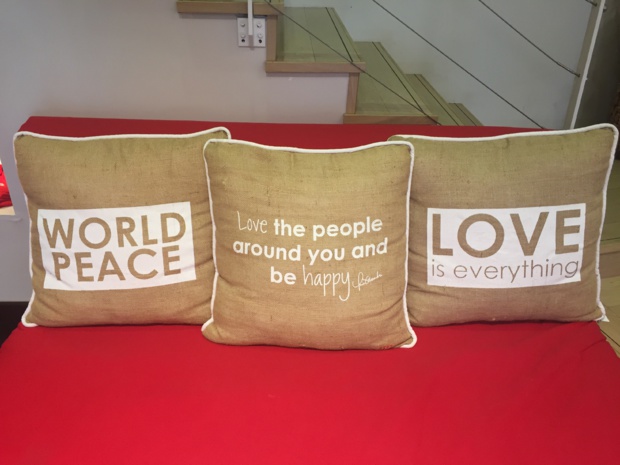 "Peace, Love, World" Boutique in Cannes
The shopping arcade of Cannes' city-center that links Antibes street to La Croisette, built in 1978, has reopened late December 2015 after long years of construction work.
It offers 64 stores and around ten new brands
in a bright and designer setting, along with entertainment spaces such as exhibits.
"The Gray d'Albion is the centerpiece of Cannes' attractiveness. Expanding to the world must be done through commercial attractiveness. There is no prosperity without entrepreneurs"
declared the Mayor of Cannes, David Linard during the inauguration of the Gray d'Albion arcade on December 17, 2015.
"Peace, Love, World" Boutique
This is a brand-new boutique on rue d'Antibes. "Peace, Love, World" is a chic American streetwear brand that targets mostly women. Created by the American designer Alina Villasante, the brand is already well established in the United States and holds around ten boutiques in Miami, home of its headquarters.
The brand wants to send a spiritual and positive message through motivational quotes printed on its clothing, inspiring to look at the bright side. American celebrities such as Jennifer Lopez, Selena Gomez or the Kardashian sisters love these outfits.
Last May,
"Peace, Love, World"
opened its first boutique in France and Europe, and it didn't pick Cannes at random… "
It must be known that Cannes is the city that specifically resembles Miami in terms of image, which is the city from where the brand's creator originates. Cannes is a party city all year long, glamorous and sunny just like Miami
- explains the boutique's Director -
so it is not surprising that Alina Villasante chose to launch her first boutique at the heart of Cannes."
Borsalino
The famous Italian hat brand,
Borsalino
, inaugurated its first boutique on the French Riviera, and the 2nd one in France, with a store on rue des Etats-Unis in Cannes, just under one year ago. Located only 50m from La Croisette, the Piedmont brand is giving itself a new impetus.
Practical Infos
Gray d'Albion Shopping Arcade
64 rue d'Antibes ou 17 Bd de La Croisette, Cannes
www.graydalbion.fr
Peace, love, world
1 rue d'Antibes, Cannes
peaceloveworld.com
Borsalino
15 rue des Etats-Unis, Cannes
www.borsalino.com
Getting to Cannes?
Plane
Located 27 km from the Nice Côte d'Azur Airport, Cannes is accessible in less than 30 minutes. The Nice Côte d'Azur Airport, a major entry point for the South of Europe, serves 90 destinations through direct flights and hosts close to 50 airline companies.
www.nice.aeroport.fr
Shuttles go from the airport to Cannes in around 45 minutes (through the highway):
Departure from the airport at 8am and 9am, then every 1/2 hour until 7pm then at 8pm - (through the coastal road) at 8:45pm and 9:45pm.
The
Cannes-Mandelieu Airpor
t is allocated general aviation for tourism and business travel. The economic and touristic vitality of the region ranked Cannes-Mandelieu as the second business airports after Paris-Le Bourget. Located 15 minutes from the city-center of Cannes and Palais des Festivals and Congrès de Cannes, the airport is a useful tool to directly connect the city to large European cities.
www.cannes.aeroport.fr
Road
Cannes is connected to major European cities. The city is linked through the Highway A8 "La Provençale" (exit N°42 Cannes La Bocca or Mougins/Cannes), then Aix en Provence in the West and until Italy on the East.
A few examples of distances in kilometers:
Paris 950 km – Milan 320 km – Geneva 630 km – Barcelona 670 km – Roma 710 km - Munich 810 km – Brussels 1220 km – Amsterdam 1400 km.
Train
The city of Cannes is largely served by TGV, Train Corail, and express train that connect it to all French regions and major European cities. This mode of transportation will allow you to discover spectacular landscapes bordering the sea at the foot of the Estérel Mountains with their red and steep rocks.
www.idtgv.com
or
www.voyages-sncf.com
.
A few examples of trip durations:
Cannes/Toulon: 1h15 - Cannes/Marseille: 2h - Cannes/Aix en Provence: 3h15 - Cannes/Lyon: 4h and Cannes/Paris : 5h15.
More information:
www.cannes-destination.fr