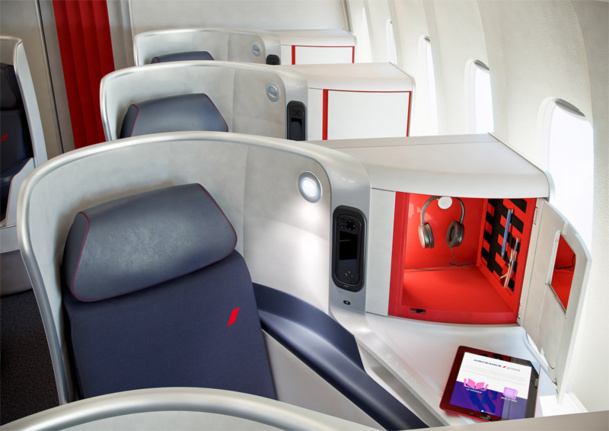 Placed in a cocoon-like manner, slightly on the side, the cabin has four seats per row, set-up in 1-2-1 fashion - Styles & Design
It is not always easy to do a review of a night flight when we slept the whole way through.

But after all, isn't that the goal of a business class, allowing its passengers to rest before diving into a work day without feeling tired?

In my defense, let me emphasize that the last daily flight from New York to Paris leaves at 11:20 pm and it was delayed due to bad weather.

During our wait, it was impossible to use the Air France lounge that is currently undergoing renovations until next september. The passengers were redirected towards that of Japain Airlines, which should also be going through a rejuvenating treatment.

Once we finally boarded the Boeing 777, all of the passengers rushed to take photos of the new Business Class cabin.

It is true that Air France has invested close to 200 million euros to change 2102 seats of its 44 Boeings 777.

Rise up to world standards
Through these expenses, the company hopes to rise up to the standards of the biggest companies in the world, thanks to a seat that uses the 3 "Fs": it reclines horizontally (Full flat), provides aisle access without needing to step over the neighbor (Full access) and has a shell that wraps around to provide privacy (Full privacy.)

Placed like cocoon, slightly on the side, the cabin has four seats per row, set up in a 1-2-1 fashion.

A new set-up that reduces the number of seats to 58 instead of the previous 67. Representing a 10% loss.

However, for the client, the seat is 196 centimeters long by 68 centimeters wide (72 cm including the elbow rests.) The previous one measured 2 meters long for a width of 61 centimeters. Gaining 20% in space.

The three stewardesses and stewards assigned to the business class give out a pretty case that includes a pair of socks, headphones, a toothbrush, toothpaste, a comb, and a small Clarin hydrating cream.

A comfortable blanket, a feather-filled pillow, and slippers complete this outfit.
Every little detail counts…
The still awake passengers wait for dinner while enjoying over 1000 hours of programming showed on the 41 cm touch-screen TV (versus 26,cm previously.) They can also invite other passengers to chat with them.
For the meal, Air France has partnered with famous chefs in order to offer signature dishes. On this flight, Joël Robuchon was in the kitchen preparing a Xérès chicken and a southern style semolina dish
Two other dishes are available to choose from, followed by a cheese selection and dessert. The menu offers a choice of red wines (Crozes Hermitage and Haut meedoc), a white Bourgogne, and a Côtes de Provence Rosé.
Breakfast is composed of fresh fruits and pastries, but without a hot meal. The stewardesses serve coffee and croissants for the late risers up to 30 minutes before landing.
They were also given training in order to personalize their services to passengers. Most of them are satisfied with their experience, even though some of them complained about the finish of the seats.
"I was expecting more precise care and I noticed that some of the plastics wouldn't come off the seat"
says one of them.
"They didn't change the bathroom and haven't worked on the lighting"
adds his neighbor.
"This is the first newly equipped plane, the company will surely do the necessary adjustments to make everything perfect"
nuances a third passenger.
All of these things many seem futile, but with the ambition of reaching the top 3 of the world's best companies, every little detail counts.