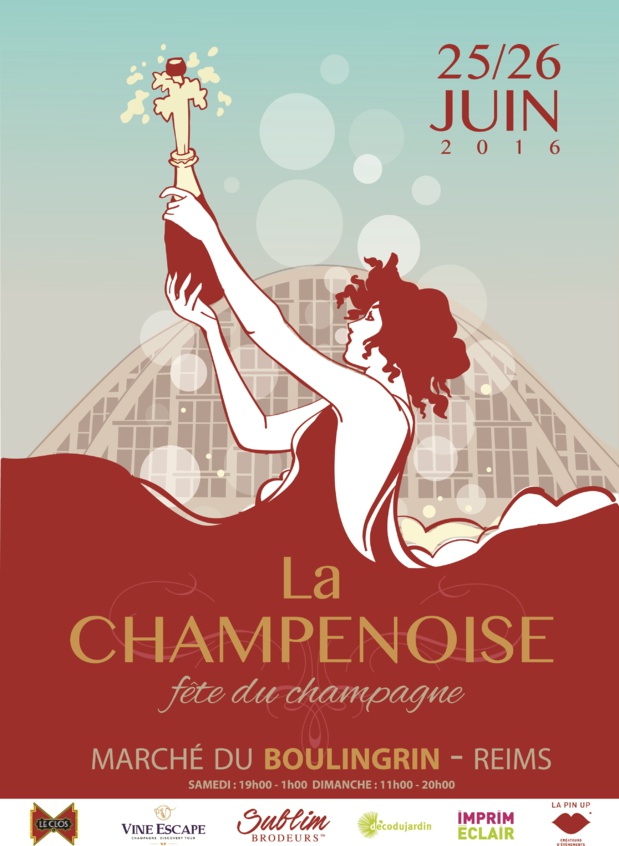 La Champenoise Poster
The Champagne region, outside of Paris, was recently
listed as a UNESCO World Heritage Site,
awarding the know-how of Champagne makers as well as the beauty of the cellars and hillsides.
Indeed, Champagne producers have a unique know-how that is famous worldwide.
Yet, contrarily to major French wine regions such as Bourgogne or Bordeaux,
Champagne did not have a local celebration of international calibre.
To fill this void, three entrepreneurs, two from the Champagne region and one from Bordeaux,
created La Champenoise, a Champagne festival that will take place June 25 and 26, 2016 in Reims, in Champagne.
For the first time, La Champenoise - the Celebration of Champagne-, will gather all in one place, tourists, amateurs, and wine professionals through a popular and unique event aimed at uniting all Champagne aficionados.
"All the major French wine regions have their celebration, sometimes even at an international level… Champagne is the most festive and friendly wine there is, and we wish to celebrate it with this event that unites all the players involved in its production, whether it is trading houses, cooperatives or independent winemakers,"
explains Franck one of the founding entrepreneurs of the project.
La Champenoise will be
the largest gathering of Champagne producers
opened to a wide audience.
The event will take place in mythical Halles du Marché du Boulingrin, known for their architectural and historical foundation.
Practical Information
La Champenoise
Les Halles du Boulingrin
50 rue de Mars
51100 Reims
http://fetechampenoise.com
Rates
Entrance for Saturday June 25, 7pm-1am: €15*
Entrance for Sunday June 26, 11am-8pm: €15*
2 day pass: €25*
Getting to Reims?
Car
Highway A4 Paris-Strasbourg
Train
Thanks to the East European TGV, Reims is 45 min from Paris and 30 min from the Roissy Charles De Gaulle Airport.
Reims = 2 TGV train stations
Reims center TGV Station: 9 daily roundtrips to Paris (45 min)
Reims Champagne to Bezannes TGV station (5 km from the center of Reims): 2 daily roundtrips to Paris (40 min)
www.voyages-sncf.com
Airplane
- Roissy Charles De Gaulle: 30 min by TGV
- Paris-Orly Airport: 1:30h by shuttle
- Paris-Vatry Airport: 1h by shuttle
- Reims-Prunav Airfield: light business and tourism airplanes
Phone: +33 (0)3 26 49 10 92