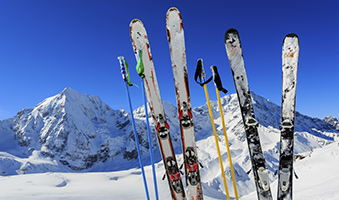 TourMaG.com - What do your new offers consist of?

I.J.: "We launched All Included ski offers to meet clients' demand of having an all-included price that enables them to control their budget right from the reservation.

By reserving all of their ski activities with their stay, clients can fully let go and not think about anything once they arrive: their ski material awaits them in the store that is often directly inside the hotel, the ski passes are given to them at the reception along with the room key. No more waiting in line, nothing to plan, everything is ready and paid for.

The All Included Ski Package includes not only ski activities but also all the meals: no need to cook. Without forgetting the children's club, entertainment, and activities other than skiing such as a guided snowshoe hike.

The All Included Ski Package really is the right choice for going to the mountain with your eyes closed and without needing to move a finger. We take care of everything, our clients only have to relax and enjoy their holiday.

The Weekend Pack responds to the same desire of a packaged offer, with no surprise upon arrival. The demand of short stays, even in the Winter, is growing. Many people do not go to the mountain to ski, they account for 15 to 20% of our clients. They appreciate the environment for sports, but also for the peacefulness and purity of the mountain. In such a landscape, the desire to get cozy is even stronger, which is why we give our clients of the weekend package the following options: either we add the ski package or a wellness package.

Our package is very flexible, allowing each individual to choose his or her activity. If one is more a ski fan while the other prefers massages, the price will be the same and everyone will get his or her favorite activity."
TourMaG.com - What are the next projects of MMV?
I.J.:
"MMV is pursuing its development policy. Last year, we opened the Hotel Club MMV Les Arolles in Val Thorens, a former Club Med, that we entirely refurbished and that today has become our showpiece.
In December 2016, we will open a brand-new Club residence in the Menuires, of which the construction is nearing its end. This will be a 4 star residence, with an indoor pool, an O Pure Spa, a Children Club, a gourmet restaurant with a wonderful panoramic terrace, and even an integrated ski store. Departure on the slopes can be done with your skis on.
We have other projects in the Alps, for instance in the Saisies and in Tignes, but it is too early to speak about it."
TourMaG.com - What is the profile of your clientele?
I.J.:
"Everything depends on the period of the stay. During the school holidays, we mostly welcome families. Outside school holidays, it is mostly groups of friends, seniors, couples with or without young children."
TourMaG.com - Do you work with a foreign clientele?
I.J.:
"We work a lot with a European clientele, especially with Belgians and English. They choose stays in full board, and come mostly to ski but also to practice non-skiing activities that we offer for free, such as snowshoe hiking or star-gazing evenings (dinner in a refuge or a short hike to admire the sunrise from the peaks of the station.)
We also have a good presence on the Eastern European market, that tends to choose more stays in residence clubs rather than hotel clubs."
www.mmv.fr
MMV lance une offre Ski Tout compris