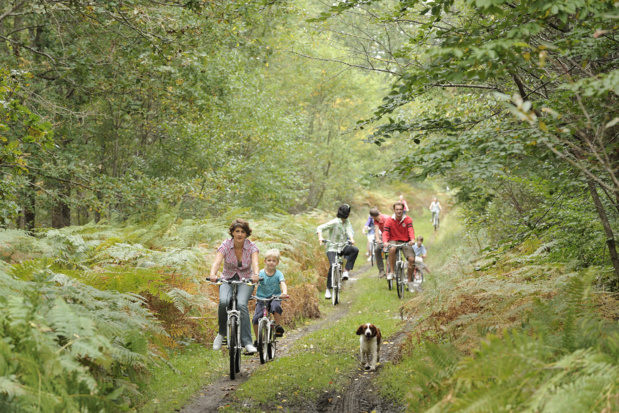 Biking in the forrest (Photo: Oise Tourisme, Jean-Pierre Gilson)
TourMaG.com: What is the value of exploring Compiègne and its surroundings by bike? 
V.M.
 :
«
"Biking-tourists, from families to professional cyclists, can enjoy the Compiègne region's network of eco-friendly bike lanes that call for peacefulness and discovery. To the beauty of the forrest, a true lifeblood right at the entrance of Compiègne, add the diversity of our history that inherits from royal and imperial remnants, which translates into 14,000 acres oozing with stories! For travelers wishing to a enjoy car-free stay, it is easy, departing from the Compiègne train station, to organize a family day or an adventurous journey in soft mobility. Picardie Forêts Vertes, a bike renting company established in Compiègne even provides pick-up at the train station with all of the necessary material.
.
»
TourMaG.com: Are there lots of bike lanes in Compiègne?
V.M
 :
«
We have 70km of marked out and secured bike lanes. Amongst them, two lanes are particularly appreciated by families with children because they have an easy level and are rather flat! The first one, via the Saint-Jean-aux-Bois village leads to Pierrefonds and its famous fairytale castle. The second dives into the heart of the forrest and loops back to Compiègne, via Vieux-Moulin.
.
»
TourMaG.com: Does a biking visit enable easier access the region's sites?
V.M 
: «
 Plenty of sites and monuments are just a few pedal kicks away: the Compiègne Palace, its rose garden and the imperial alley of Beaux-monts, the Pierrefonds castle, the Saint-Jean-aux-bois village built around its abbey, the Armistice clearing… We guarantee a full immersive experience at the heart of this exceptional forrest massif! By going up the Scandibérique, a biking trail that links Trondheim in Norway to Compostela at the North-West of Spain by crossing through Paris, visitors can also reach Noyon and its gothic cathedral or the l'Aisne banks that are close by.
 »
Practical Information
Getting to Compiègne?

Driving
Through the Paris - Lille A1 Highway: Paris is 50 minutes away (75km), Lille at 150km, the English channel tunnel at 220 km

Train
40 minutes from Paris (through Gare du Nord station).

Airplane
The international Airport Roissy-Charles de Gaulle is 35 minutes away (through A1). The international Beauvais Airport is 45 minutes away.