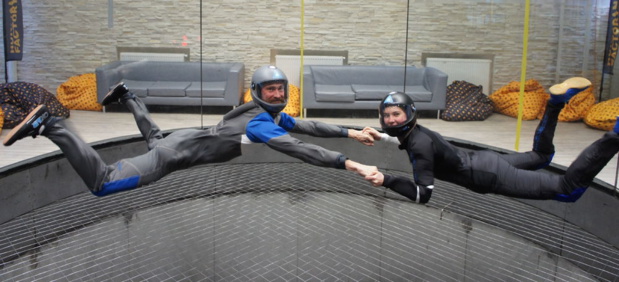 Flight inside the flight simulator On'Air Soufflerie
Located on the Gap-Tallard airfield, this space also known as
"a wind tunnel"
provides the same
sensations as a skydiving jump.
A unique concept in Europe, the flights take place inside an 8 meter high glass seam offering a 360° breathtaking view on the exterior.
"Guided by a qualified instructor, the flights take place in complete safety, with no vertigo. The session costs four time less than a real skydiving jump while providing a similar sensation. Well-known in the world of skydiving, a "wind tunnel" is an essential tool for skydivers and national teams, as it enables to progress in optimal conditions all year long,"
explains the team of aficionados at On'Air Soufflerie.
Practical Information
On'Air Soufflerie
Aérodrome de Gap/Tallard
05130 Tallard
Phone: +33 (0)6 68 73 29 40
contact@onairsoufflerie.com
www.onairsoufflerie.com
Rates
Jump starting at €49
Getting there?
Road
Coming from the North of France: highway until Grenoble then R.N. 85 (Route napoléon) through the Bayard pass or R.N. 75 through the Lus la Croix Haute pass.
Coming from Italy: highway until Oulx then Montgenèvre pass and R.N. 94 through Briançon.
From the Mediterranean coast: highway A51 until La Saulce then R.N. 85 (Route Napoléon).
From Languedoc-Roussillon, South-West region and Rhône valley: highway until Bollène then D 994 through Nyons or highway until Valence then D 993 through Die and Cabre pass and D994 until Gap.
Train
Paris-Gap-Briançon by night train.
Marseille-Gap-Briançon three times a day
T.G.V. until Grenoble, Valence and Aix en Provence. From these stations, regular lines to Gap.
www.voyages-sncf.com
Airplane
Nearest airports:
Lyon-Satolas: 195 km (with 100 km on the highway).
Marseille-Provence: 180 km (with 160 km on the highway)
Grenoble-Saint-Geoirs: 140 km
Nice: 327 km (with 304 km on the highway - via Aix en provence)