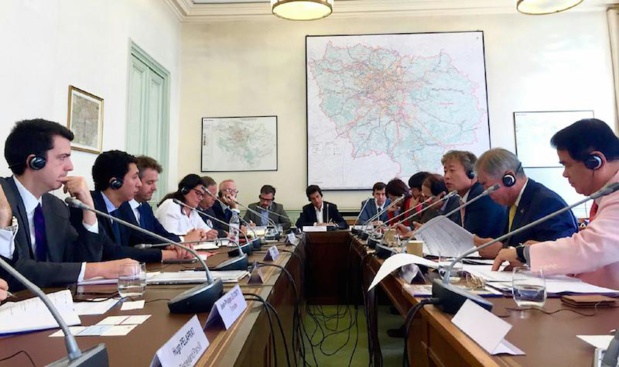 Réunion de travail entre les autorités touristiques françaises et coréennes pour faire revenir les touristes en France - DR : F.Navarro
Shopping at Le Printemps, museum visits, evenings at Latin cabaret or at Enghien-les-Bains casino : The managers of the 10 most important travel agencies have been very well taken care of.
The Oct 27- Nov 1st 2016 eductour organised by Paris Ile-de-France Regional Committee, Atout France and Air France is part of the numerous actions taken to reassure Asian travellers and to encourage them to come back to France.
In February a similar FAM was organized for
Chinese professionals.
"All these actions allowed us to slow down the loss of tourism. We will return to China end of November to meet with these travel professionals again and to sign a partnership convention with a Chinese province",
says François Navarro, General Manager at Regional Tourism Committee.
Coreans are reassured about the situation in Paris and in the region
There are 300 000 Corean and Chinese visitors in France each year. However they were only 220 000 in 2016. A 20% drop.
"After the terrorist attacks in Paris we changed our programs to avoid the capitale and to travel to South of France. But the attack in Nice complicated the situation even more.

In addition, our Ministry of Foreign Affairs requested we should limit our travels to France",
explains Yang Moo Seung, President of KATA, a travel agencies association.
But now, with this trip, he feels confident again to travel to France.
"I saw there was no problem in Paris. Anyaway, there is no longer any 100% safe destination nowdays. You have to be careful everywhere you go."
His visit to the Préfecture de Police impressed him very much as he saw all the safety measures which have been implemented since the terrorist attacks.
"We were given a USB key with videos featuring safety advises, as for example not to leave our wallet in our pocket or our cell phone on the table"
, added Yang Moo Seung.
Mobile police stations in touristic areas
"Thanks to this FAM, travel professionals understood that state of emergency didn't mean civil war. By the way, we requested to change the name to make it look less scary to foreigners",
explains Othman Nasrou, vice-president in charge of International Affairs and Tourism.
We worked on several options with travel professionals to encourage Corean travellers to come back. We've translated touristic documents in Corean, we've worked on improving reception, wifi connexion and safety.
The president of KATA also thinks Atout France should expand their staff in Seoul offices. This proposal has been supported by Florence Pasquier, Marketing Manager at Rail Europe.
" We need to better adjust our investment abroad to the change in the marketplace".
The country is very promising with a 20% growth rate and some 20 millions people travelling abroad and 1.3 million travelling to Europe.
As for Paris Ile-de-France Regional Committee, they work as VRP and they will triple their support fund to tourism. It will grow from 1 million to 3 millions of euros.
The region will also
use additional money to fund mobile police stations
so they can work onboard buses or in the most touristic areas.