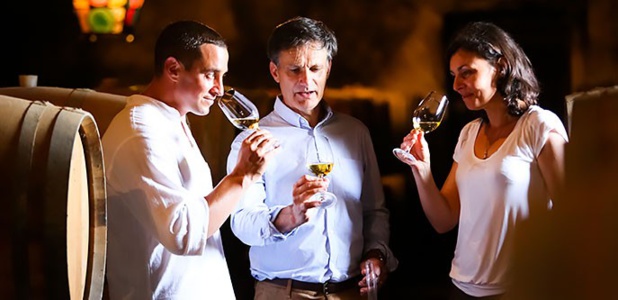 Wine Roads ©phlabeguerie
"Since almost 20 years, our open-house weekends that succeed each other over the Fall are wonderful encounters.

After the wine harvest, it is the opportunity of the Crus Classés castles and smaller wine estates to open to a wide audience.

Over two to three days, the atmosphere is festive in each label. After the Graves region and before the region of Pessac-Léognan, in Sauternes, visitors will not only rediscover exceptional landscapes and castles but will have an opportunity to explore our unparalleled sweet white wines.

With friends or family, visitors leave completely charmed! And for a reason: they won't drink wine the same way, once they'll have gone into a property and experienced a special moment with a passionate winemaker," explains Xavier Planty, President of the ODG Sauternes and Barsac and co-owner of the Guiraud Castle.

20th edition of the Graves Open-House on October 15 and 16, 2016

Les Graves is starting off the festivities and is offering a friendly immersion inside the world of these major red, white, and sweet wines.

After the wine harvest, winemakers of this label invite visitors inside their family properties to share their daily life filled with passion and know-how.
On the program: initiation to tasting with the CIVB wine school, pairings of delicacies and wines, music and art entertainment, competition games, activities for children, winemaker dinner and a ULM baptism…!

A long weekend in Sauternes and Barsac on November 11, 12, and 13, 2016

With its unique landscapes and sumptuous Castles, the Sauternes magic is still alive. The open-house offers the opportunity to a large public to discover the secrets of these exceptional sweet wines.

Winemakers from around fifty properties, including nearly ten Crus Classés Castles, invite visitors to rediscover Sauternes through gourmet and cultural encounters, exhibitions, concerts, fun and educational activities…

Castle Life in Pessac-Léognan, December 3 and 4, 2016

The Open-house in Pessac-Léognan is an opportunity to explore some of the most important and famous Crus Classés of the Bordeaux label, such as the Châteaux Pape-Clément or Smith Haut Lafitte.

Nearly forty properties will introduce their red and dry white wines for a 360° immersion inside their prestigious world.

To make the day last and to experience a unique moment, over 10 Castles will organize exceptional tasting-dinners on Saturday December 3rd.

For those eager to visit the Castles but who, unfortunately, will not be able to attend the open-houses, don't panic, because over 100 Castles welcome kids and adults alike every day of the year, with or without appointments, on the Bordeaux Wine Road in Graves and Sauternes!
Practical Information
To find out more
www.bordeaux-graves-sauternes.com
Getting to Bordeaux?
Road
Four highways lead to Bordeaux:
A10 from Paris and regions of the West and North via Poitiers, Nantes, Orléans
A62 from the Mediterranean via Toulouse, Montauban and Agen
A63 from Spain via Bayonne and Dax
A89 from the South-East and the East via Lyon, Clermont-Ferrand and Périgueux
Bordeaux >Arcachon : 70km >Bayonne : 190km >Biarritz : 200km >San Sebastian : 250km >Bilbao : 340km >Nantes : 350km >Lyon : 590km >Paris : 590km >Madrid : 700km
Train
Every day, the Saint-Jean train station has 260 trains including 25 TGV roundtrips. Bordeaux/Paris-Montparnasse (2h58), 4 roundtrips Bordeaux/Lille, 2 roundtrips Bordeaux/Strasbourg, 200 TER (Express Regional Trains) linking the regional capital to all the Aquitaine cities. Over 4 million travelers transit there each year.
Airplane
Located 12 km from the city-center, the Bordeaux Mérignac International Airport is France's 5th airport (outside the Paris airport) with over 3 million passengers welcomed every year.
32 regular flights and 60 "charter" flights enable to reach Paris very quickly, along with the major regions of France and European capitals.
Paris is only a 1h flight and every day the Air France flights provides 15 departures toward Bordeaux-Orly, and 15 the other way.
6 flights both ways also link Bordeaux to the Roissy Charles-de-Gaulle airport.