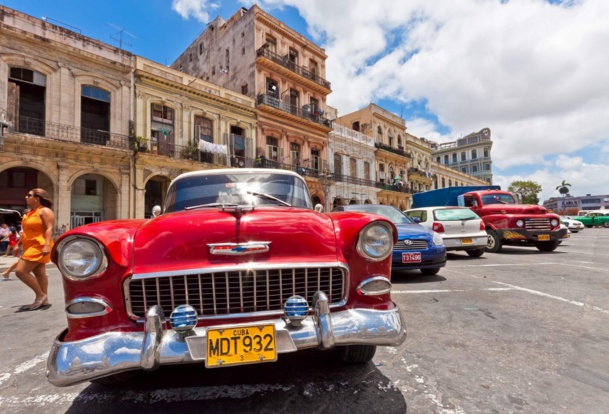 Cuba is already starting to suffer from the inherent drawbacks of a trending destination: lack of hotel rooms and price inflation. The destination currently has 67,000 rooms but is hoping for 40,000 additional ones by 2020 and 80,000 by 2030. © We Are Explorers
Even though the travel agencies of Carslon Wagonlit are still under an embargo for Cuba, the situation has changed a lot for the destination, and the rapprochement with the United States has put the island in the touristic and media spotlight.

SETO numbers already reflect this craze.

In the first eight month of 2014-2015, close to 33,120 French people have breathed the smooth scent of the Havana cigars, versus 28,824 last year.

The year will be wonderful for tour-operators.

At Vacances Transat, we should see 25,000 clients thanks, particularly, to the opening of a Lookéa.

Fram, on location since 25 years, will open its first Framisssima next November 1st and reservations record an increase of 15% since January 1st.

Finally, at Nouvelles Frontières, summer sales are progressing from 18% to 36% for Passion des îles.

Shortage of hotel availabilities
A major specialist of the destination, the DMC Evolution Voyages is expecting to have
6,500 clients travel this year, versus 4,500 last year.
"Travelers want to get there as soon as possible before the Americans start coming in large numbers,"
observes Frédérique Joos, Commercial Director.
However, she specifies that the embargo is not officially lifted and that the financial humps are still major.
Since last June, the rates are published in dollars, even though it is still forbidden to pay with this currency.
"They are preparing for the end of the embargo but, meanwhile, the exchange rate remains unfavorable"
she laments.
Cuba is already starting to suffer the inherent drawbacks of a trending destination: shortage of hotels and price inflation.
While the group Transat is doing quite well thanks to its sales volume, with an increased rate of 3 to 13%, others complain about prices rising at 50% especially in Havana, Trinidad, or Cienfuegos.
And yet, even with these rates, the occupancy rate cheerfully exceeds 95%.
Due to a shortage of availability, Frédérique Joos had to close individual sales on July and August along with group sales in November.
Many hotel projects to come
But nature hates emptiness and hotel owners rushed to begin construction work.

Havana is soon going to welcome a new Kempinski, as well as an Iberostar. Warwick is opening an all-inclusive resort in Cayo Santa Maria on the Northern coast.

The group Accor, that already owns new Mercures, should begin the construction of a Sofitel So of 218 rooms at the heart of Havana.

It also signed a partnership with the Cuban group Gran Caribe for the management of a Pullman of 518 rooms in Cayo Coco, all equipped with wifi, a premiere for the island.

For now, Cuba has 67,000 rooms, but hopes for 40,000 additional ones by 2020 and 80,000 by 2030.

In front of the shortage of hotels, visitors can turn to home stays, casa particulares that are now available on Airbnb.

The operator did not wait to set up on the destination and opened reservations right in April 2015. The website now has 2,000 active listings.

Airline companies are also in the starting-block.

After two years off the grid, Iberia is back since June 1st with 5 weekly flights from Madrid.

Air France, the only option to reach Havana in a direct flight from Paris, will add an eleventh weekly rotation in the winter.

Let's also note the activity of XL Airways that operates a charter from October to May on the account of Transat.

We're still far away from airline overcapacity. No doubt that other operators are currently studying development possibilities in the airport of Havana, that is now looking to expand.