The France Miniature Park Concept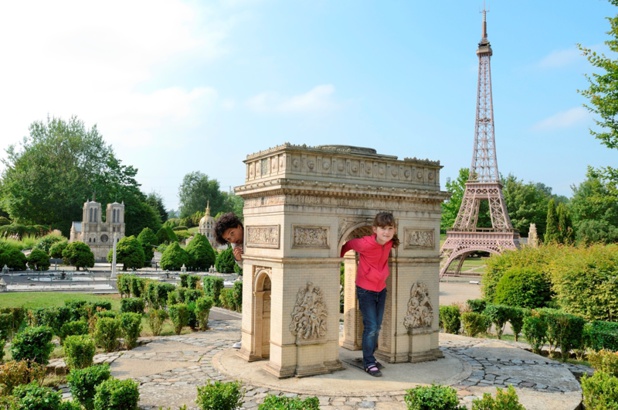 Parc France Miniature
France Miniature is a park that reconstitutes France, its main regions, sites, and monuments in miniature versions. In this respect, it is possible to explore the Mont Saint-Michel, Eiffel Tower, or Arc de Triomphe over a distance of a just a few meters…
"Since its creation, France Miniature has always committed to offering fun and diverse activities to entertain the entire family.
For its 25th anniversary, Europe's largest miniature park continues its momentum by implementing lots of unique activities and with its superb models that enable to discover or rediscover the most beautiful monuments of France's heritage.
And, to best share this very special year, France Miniature offers free entrance to the park to visitors who will also celebrate their 25th birthday in 2016,"
explains Marianne Edvire, Communications and Marketing Manager of the park.
The Spring Program
April 10, 17, and 24th: Spring at the Farm

During the Sundays of April, the Roz Farm will be at the park and offers 3 events to discover the farm: workshops around sheep wool spinning, a goat "milk bar", or donkey rides.

May 7-8 and 15-16: « Mai'diévale »

France Miniature goes back in time and takes you to the Middle-Ages: construction workshops, folkloric dances, discovering calligraphy and woodworking, initiation to Stage Fencing, raptor birds demonstration.

Practical Information
France Miniature
Boulevard André Malraux
78990 Elancourt
Rates
: Adults €21, children (4-14 years) €15
www.franceminiature.fr
Getting to France Miniature?
Driving
• From Paris Porte d'Auteuil : take A13 direction Versailles/ Saint Quentin in Yvelines then A12 direction Dreux, exit Élancourt. Count 1h to drive the 35 km that are between Paris and the park.
• From Chartres: take A11 direction Rambouillet then N10 direction Élancourt.
• From Créteil : take A86 direction Versailles, then follow N12 Direction Dreux, exit Trappes/Élancourt.
Careful: paid parking. Expect €3, to pay at the machines.
Train
From Paris, Montparnasse or La Défense, take the train until the La Verrière station. A bus network then goes to France Miniature: bus 411, 412 stop at France Miniature stop.