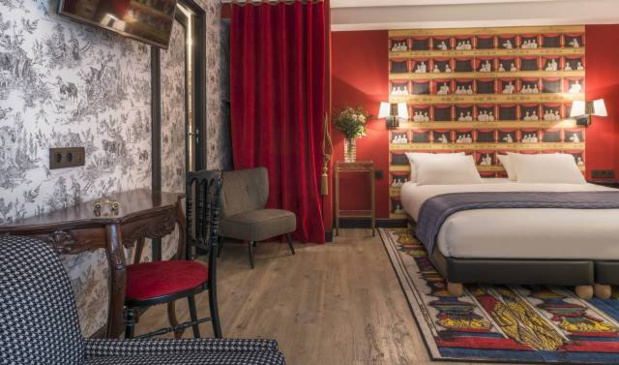 Located in a quiet street,
this 4 star hotel that recently opened its doors stands below the Butte Montmartre and Moulin Rouge, in the dynamic neighborhood of SoPi
with its intense nightlife thanks to the many theaters, music venues, and lively bars.
Thus, it makes perfect sense that the hotel was baptized
Sacha, in honor of Sacha Guitry, the famous author of boulevard plays.
"The hotel was conceived like a play with several acts
- explains Caroline Burgeot, the hotel's director -
its decoration was orchestrated by Julie Gauthron, with antique furniture and objects. For instance, there is a wonderful collection of theater binoculars."
Indeed, the lobby looks like a Parisian interior during the interwar period while the breakfast room, with its eclectic furniture, resembles the lounge of a bohemian cafe.
A high point of life at the Sasha is the intermission that is announced every evening at 6:30pm with the ring of a bell identical to those heard in theaters.
"It is the call for the daily glass of champagne and appetizers
- explains the hotel's Director Caroline Burgeot -
without forgetting our 100% French honesty bar that we created with our neighboring cellar master."
The halls that lead to the rooms are decorated with many theater posters and engravings giving the impression of standing in a theater's main hall looking for the lodges.
Each room (classic or superior) looks like an alcove. Whether in red, yellow, blue, or green, they are all furnished in an ancient, refined look with heavy velvet curtains that enhance this feeling of theater decoration.
Practical Information
Hotel Sacha
7, rue de Navarin
75009 Paris
Phone: 01 48 78 51 73
www.hotelsacha.com
13 minute walk from the Sacré-Cœur.

Rooms starting at €100