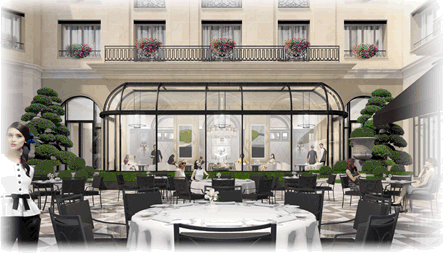 L'Orangerie
Third gourmet restaurant of the
Four Seasons Hotel George V, L'Orangerie
joins the hotel's two other restaurants: Le George (opened late 2015) and Le Cinq, bearing three Michelin stars.
The Palace's ambition is to highlight the cuisine of three Chefs of unique talents, distinctive careers and know-how, offering guests the possibility of exploring a variety of culinary worlds.
Six months of construction work were necessary to create this
7 meters high Orangerie composed only of glass and steel
, fitting perfectly with the Art Deco architectural style of the Palace.
The
Chef David Bizet
presents his menu like the definition of French contemporary traditional cuisine
"of elegance, refinement, and femininity that respects nature and the seasons."
"As a lover of nature myself, it is important for me to work with products that represent the French territory. My cuisine stands out through its elegance and finesse, my interpretation of the product can be felt both on a sensory and visual standpoint,"
adds the Chef.
Practical Information
L'Orangerie
31 avenue George V
75 008 Paris
Phone. +33 1 49 52 72 24
Paris l.orangerie@fourseasons.com
www.lorangerieparis.com
www.fourseasons.com/paris
Open everyday
Lunch menu: 95 euros served in 3 dishes
Tasting Menu: 125 euros served in 4 dishes