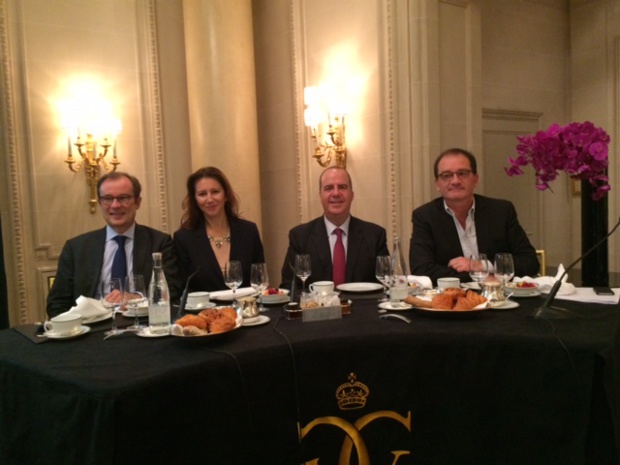 Paris welcomed Virtuoso's chairmen to celebrate the 12th anniversary of the Chairman's Regognition Event -
The tourism industry is full of surprises.
In Paris, this week, Virtuoso's chairmen gathered to celebrate the Chariman's Recognition Event's 12th anniversary.
These (mostly American) travel industry professionals show their solidarity to France by organizing their event in Paris this month in memory of the terrorist attack which occured last year in the Bataclan.
Atout France got actively involved to make this event happen in Paris, working hard from their New York office.
It is indeed an excellent idea to attract down Paris tourism professionals and opinion learders, members of a 14.2 milliards euros worthwhile network
Matthew D.Upchurch, President at Virtuoso declared: «
We are proud to stand by Parisians on this special day referring to one of the worst worldwide tragedies. We believe that if boarders divide, travels gather and we are here to give our support to the resilient persons, especially our privileged partners and our new Parisian agencies' members
"
In an era ruled by social media, b[our presence here and our expertise sharing give us the opportunity to be our clients' ambassadors worldwide
»
150 Virtuoso's members
Christian Manteï and Atout France had long understood this point. They had their guests discover first hand the wonders of the French capital.
The150 Virtuoso's «
members
» were treated as kings : accomodations in Parisian palaces, a private diner in Versailles, a reception at Opera Garnier, private tours of the most notorious Parisian sites (culture, arts and fashion).
The Virtuoso's President smiled: «
Paris is the city of lights and we are delighted to see it shine
»
Before they leave,
visitors will be hosted at Paris City Hall
by Ms Hidalgo and Matthias Fekl .
This visit is an important part of the promotion plan to revive tourism in Paris and in France. Especially since the American market has always been a strong partner and a valuable asset for the destination.
However, Virtuoso's report states that bookings in privileged Parisian hotels have dropped 17%.
«
The situation should change in 2017, says Matthew Upchurch, as our survey shows France is the third most looked after destination worldwide, after Italy and South Africa
».
Let's salute this great intitiative by Atout France supported by Paris OT. It should be renewed in the next coming months.