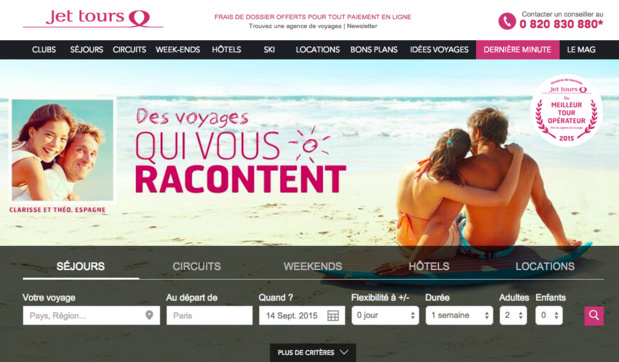 Jet Tours wants to regain its former nobility.
Thomas Cook's showpiece brand presented on Thursday September 10, 2015, a very enriched production aimed at both families staying in clubs and travelers on a bigger budget looking for luxury accommodations.
To succeed in seducing such a diverse target, the TO is increasing its offer and commitments on its signature destinations.
"We hope to retrieve our position as a leader in the Indian Ocean and, to do so, we need to offer products for varied budgets on all of these destinations,"
explains Nicolas Delord, its Director.
The Indian Ocean is the star, with over
150 products,
and represents the market's largest offer, including a major portion on the Maldives and Mauritius island.
These two islands offer
40 and 49 hotels respectively
, a 20% increase of the offer. And to better serve agencies on these destinations, the TO repatriated its reservations system to Paris.
Jet Tours is also launching
a collection called "Exception"
that groups 17 of the production's most beautiful addresses.
A coach will also be operative in three hotels in the Maldives in order to offer activities to clients. All of these elements are proof of the TO's will to upgrade its quality.
Seducing a larger target of clients
Simultaneously, Jet tours is developing its offer on clubs. This winter, it is betting on Lapland, with the opening of a 4* Eldorado in Ylläs Saaga.
It will offer 5 activities there (all included in the price), from dogsledding to snowmobiling. It has committed to 147 weekly seats for three months and thus hopes to seduce 1,500 clients on the destination, on which it is also programming 2 other hotels. A goal that is already halfway accomplished.
It is also opening a
Club Eldorador Maspalomas Princess 4* on the Gran Canaria island and a Club jumbo Vista Sol in Punta Cana
. Furthermore, it is taking the opportunity to reinforce its commitments on the Dominican Republic with 2,550 seats leaving from Paris.
Clubs appear to be quite successful, as proved by the results of summer 2015 that show an increase of 6%.
"They would even be at a progression of 25% if we didn't count the establishments in Morocco or Tunisia,"
highlights Nicolas Delord. In total, the TO made 170,000 clients journey in its hotels, a 4% decrease.
Regarding tours, the numbers are a lot more encouraging with
11,500 clients last summer (+22%),
pulled up by the United States and Southern Europe. An increase that is maintained for the winter with sales already at a
+52% increase
, carried by the growing popularity of Sri Lanka, Cuba, Vietnam, and South America.
Becoming a leader in affordable tours
To sustain this growth, the tour-operator is multiplying its commitments on India, South Africa and Sri Lanka, along with Bali and Thailand.
Prioritizing direct flights, it has reinforced its partnership with Air France. It also changed service providers in Sri Lanka, Chile, and Mexico after negative feedbacks from clients.
Finally, it is launching on Colombia, Philippines, Cambodia, and is coming back to Australia. Iran will also be sold in the catalogue for the summer season by next October 23rd.
"We hope to become a leader on affordable tours,"
ensures Nicolas Delord. He is aiming at quality products, baptized as "essential", that account for half of the company's production.
In the end, the first trends of winter sales are encouraging in terms of revenues (+6%), but more negative in terms of clients (-6%.)
The blame for this goes to destinations south of the Mediterranean:
Tunisia and Morocco, that are crumbling by 50%.
But the increase of more expensive destinations is raising the average value per customer purchase. Let's point out that the French West Indies are starting up again thanks to the use of the dynamic package.
In the end, Jet tours hopes to seduce 60,000 clients this Winter, an increase of 10%.
Jet Tours is also betting on new technologies
The group is pursuing its investment in digital technology for up to 700 to 800,000 euros per year.

On the agenda this year: redesigning the B2C website along with the B2B tool that will be presented at the IFTM.

A multi-TO offer comparator is also available to Jet tours' franchised companies.

Finally, we'll note the arrival of a heightened reality brochure, in which clients will be able to highlight the pages in order to access more photos, videos, and maps.