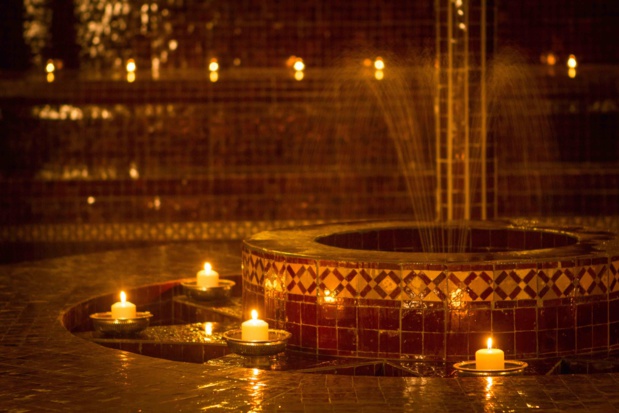 Hammam Les Cents Ciels
"I found a piece of myself in the Middle-East. It was without a doubt in the hammam that the catharsis took place. Another world appeared, where women could reveal themselves openly and without social distinction. I wanted to provide a similar place in Strasbourg to share my experience and make it accessible to Western women,"
explains Véronique Bonnefont, Founder of Cents Ciels.
A team of several artisans in France and Morocco created a true hammam in the center of Strasbourg over an area of 700 meters.
The artisans and workers committed to transforming a neutral space into a ryad, that would be both typically oriental and contemporary.
"We drew the ornamental details ourselves, such as the magnificent sculpted wooden doors, the lamps and brackets that are then tailored to fit by Moroccan artisans. Having this control on the details avoids a pastiche feeling and allows us to mix codes to create the illusion of a ryad of today."
Among the treatments offered, the one based with
donkey milk is quite unique.
It took two years of development to perfect an emulsion made out of donkey milk and argan oil. When paired with the effects of light therapy, its healing attributes are heightened.
Practical Information
Les Cents Ciels
12 rue Finkmatt
67000 Strasbourg
http://strasbourg.hammam-lescentciels.com
Hours
For women :
• Wednesday 10am-10pm, • thursday & friday 10am-5pm, • saturday 10am-10pm, • sunday 10am-2pm
Co-ed days:
thursday & friday 17h-22h, • sunday from 2pm-10pm
Infrastructures
-Number of changing rooms: 90
-Hammam (hot and warm bath)
-Pool
-Sauna & Cold pool
- 3 double rooms for body scrubbing, 6 treatment rooms with 2 doubles, and one with 2 bathtubs for the donkey milk treatment, a relaxation room with a dozen rest beds
Restaurant with nonstop service from 12pm - 10pm - Capacity: 44
Getting to Strasbourg?
Road
In the West and North, highways A4, A34, A31 and A32 reach Strasbourg from Paris, Amsterdam, Brussels, Luxembourg and Bonn via Metz and Sarrebruck. In the South, the axis Strasbourg-Mulhouse, prolonged by the A36 joins the highway A6 of Beaune that opens the road toward Italy and Spain.
Train
Strasbourg, one of France's most important train stations, is linked through direct lines to many cities in France. But Strasbourg is also located at the intersection of major international axes and enjoys convenient lines with lots of major European cities. From Paris, expect 2h20 of travel time until Strasbourg (departure from Gare de l'Est).
www.voyages-sncf.com
Airplane
The Strasbourg-Entzheim International Airport is located 10 km from the city center of Strasbourg through the highway. The major German cities of the catchment area, such as Offenburg, Lahr, Baden-Baden and Karlsruhe are between 45 min to 1h30 through the highway.
strasbourg.aeroport.fr