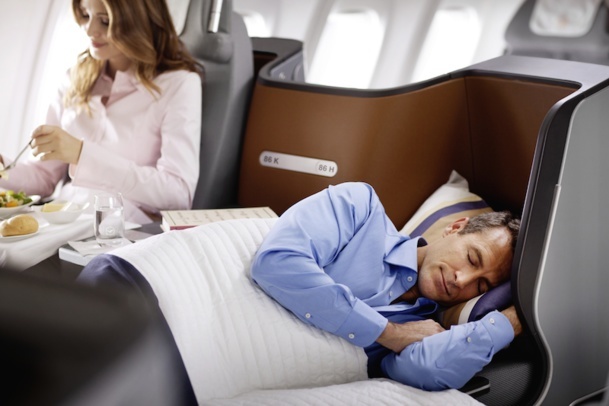 Lufthansa's business class offers a fully flat bed to passengers. DR Jens Goerlich.
The German company Lufthansa
instills lots of hope in its new business class.
Launched in March 2012, for a total budget of 1 billion euros, the entire fleet should be equipped by the end of summer 2015.
"We're hoping to become a premium company and win the 5th star of the Skytrax ranking"
explained Jens Bischof, a few weeks ago, Sales and Marketing Manager, during the launch of the new Premium Economy Class.
In fact, the renovation of its business cabin has made a real difference, giving room for the installation of a Premium Economy Class.
But contrarily to other companies, especially Air France,
Lufthansa did not follow the 3F rule that prevails on new business classes.
Attentive and friendly service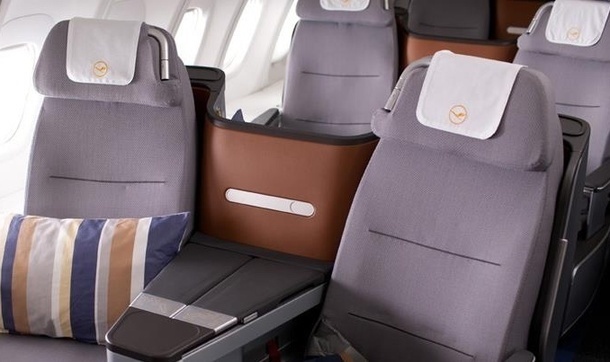 The Lufthansa seats don't provide a direct access to passengers on the window side. DR
This principle wants for every passenger to be able to access the main alley without needing to step over their neighbor (full access), enjoy full intimacy (full privacy), and sleep on an entirely flat bed (full flat.)

At Lufthansa, only the third item was kept.

The seats fold out in an entirely flat bed of 1.98 meters long and 49 centimeters wide. A removable arm rest gives even more space to sleep comfortably.

The cabin has three rows with two seats designed in a "V" shape. Spaced out around the shoulders, they get closer at foot level, without touching the adjacent seat.

The black toiletry case is very simple, almost similar as that of the Premium Economy. It contains a toothbrush, toothpaste, mask, earplugs, mint candies, notepad, and a sample of Nivea lotion.

Service onboard is impeccable: a welcome drink, a warm towel before and after the meal, all accompanied by a permanent smile from the friendly staff.

For the meal, the traveler can choose from a menu between three appetizers, three entrees, and three desserts. With an option of two white wine and two red wines.

The food is served on a plate with a white tablecloth, everything is well presented and the meal very tasty.

After dinner, the passenger can be entertained thanks to the large selection of over one hundred films, including a few new releases like Yves Saint Laurent, Grâce de Monaco, or Planet of the Apes.

Bose headphones of excellent quality isolate perfectly the outside noises and allow to fully enjoy the films.

But during our night flight, operated on a Boeing 747-800, most passengers preferred to lower their seats and snuggle under a comfortable blanket to sleep and arrive well-rested the next day.