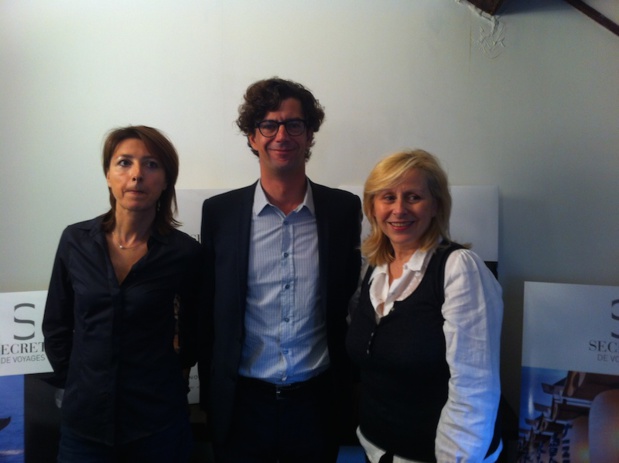 The Secrets de Voyages team is very satisfied with the results of its niche TO. DR-LAC
Secrets de Voyages, the little sister of Austral Lagons, is celebrating its eleventh anniversary this year and its second year within Monde à la Carte.
The high-end TO closed its account last October 31st with a turnover amounting to
6.6 million euros for a growth of 10% at constant perimeter, accounting for 1,500 clients.
"Secrets is not looking to make large volumes, contrarily to Austral Lagon. I am not looking to industrialize the brand,"
explains Hélion de Villeneuve, Associated Executive Director of Monde à la Carte.
Yet, he hopes to make his sales revenues increase by
10% next year.
To do so, he wishes to base himself on his new catalogue, printed at
20,000 copies and distributed within 1,500 partner agencies.
The document is enhanced with 32 additional pages and expands over
eleven new countries:
Ireland, Switzerland, Botswana, Zambia, Burma, Philippines, Singapore, Chile, Canada, Martinique, Saint-Lucia. In total, there are 228 products, including 54 new ones, covering 52 destinations.
City-breaks on the rise
In Europe, Secrets is very popular with
city-breaks
that were relaunched last year in partnership with the travel guides Wallpaper.
"Despite the disintermediation and the competition of OTAs, we recorded an increase of 25% of our turnover on this product that accounts for 15% of our earnings,"
rejoices Hélion de Villeneuve.
"I made a comparison on Booking and our rates are fair,"
ensures Martin Santos, the Director of Secrets.
The craze over these short stays is linked to the quality of its conciergerie service, that is quick in responding to clients' demands.
For
long-haul flights
, the tour-operator is enhancing its offer with
eight new itineraries
, with as many trip suggestions that clients can modify at their will.
Canada
also appears on the list, a destination that was popular last year and that is entering into the production.
Secret added
the luxury train, the Rocky Mountaineer,
to its program, for an excursion throughout the rocky mountains.
Another railway addition:
the Belmond Grand Hibernian
that will be circulating in Ireland, by next Spring. In total, Secret is programming
5 legendary trains
in Italy, Ireland, Scotland, Thailand, and Canada.
Cruises are experiencing the strongest growth
But it is on water that the TO is experiencing the strongest growth. Indeed, the cruising sector accounts for one million euros of its turnover. 15 ships are on the program, including the new Silver Muse, that will be launched in the Spring 2017 but for which some departures are already booked full.

The production of Secrets seduces a clientele of many devoted customers, who sometimes reserve directly, representing 30% of sales.

However, the brand remains mostly sold in B2B. The privilege agencies club, created last year, has been falling behind and should be relaunched in 2016.

The TO is also expecting to organize an event for travel agencies at the beginning of next year, and will present its offer in the province (PACA and Bordeaux.)

Necessary efforts to maintain an excellent relationship with travel agencies.